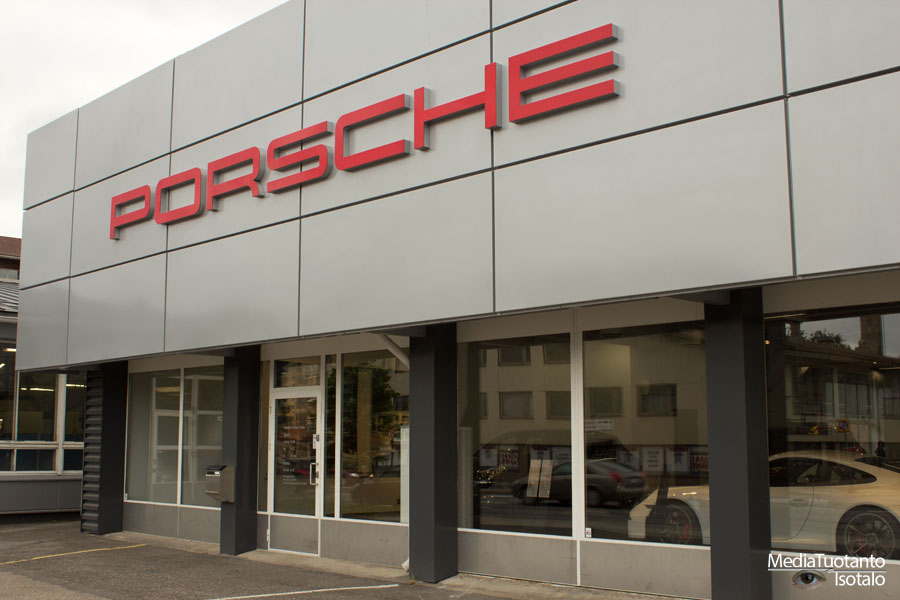 Porsche anyone?
It happened this spring that I got an email from my previous contact at Toyota sales. He had moved from Toyota to a soon to be opened Porsche Center, which was going to be opened here at Turku (Finland). You can imagine all the thoughts that started running in my head, hoping that one day that would open me a chance to drive a Porsche. Before driving one though, I was going to pay a visit to them.
No Porsche can be presented in some dark warehouse-like building, so this had big windows on 3 walls. When you enter the main door, your eyes find something rare, a white Porsche 911 GT3. Not something you see every day over here. All the other new models are placed in the front and the used-Porsche's are located at the back to the room. The furniture and placement of things all have a bit of luxury feel in them, something you'd expect a premium car dealer to have.
Being a representative of a media, I might be wrong person to judge this but I also think that the personnel have a very relaxed feel there. I mean that when I enter there, I always feel welcomed. Now that might be because I write articles and take pictures etc, but it's not happening only to me. When a common looking person comes in wearing shorts and crocs, person is greeted like someone coming in an expensive suit, and treated like a potential buyer. So I think that it's a place where a common person is not treated like someone that shouldn't be there. That is very good thing because if you think about it, you can't really tell who has the money to buy one. It also means that if you just want to feast your eyes with the wonderful cars, you are allowed to do just that.
Here is a photo gallery from the Porsche Center Turku. It has the already mentioned white GT3, a black Macan and Carrera 4S. There is also a red Cayenne.
---
---
Now it sure was nice to visit their premises but that alone won't satisfy my hunger for long. I want to drive one! And now at the time of writing this article after a few months from the visit, I have. I won't tell any more about that because that is another story but I have made a short roadtrip with one Porsche and planning the next one near future.
Porsche Center Turku is located at Helsinginkatu 22. It's right on your way if you come from Helsinki, on your left side after crossing the Aura river. Porsche Center is a nice addition to the already great supercar offering we have here in Turku. The difference to the other supercar dealers is that this one is an official Porsche dealer while the others sell used cars.
If your in to cars and are nearby, this is a place to visit. The GT3 alone is a good reason to do just that.