Sit ups
Kuntoremontti – Getting fit
To read this article in English, open full post and click here or scroll down.
Hei.
Autonkuljetushommien lopettamisen jälkeen on kuntoilu jäänyt todellä vähiin ja sen huomaa. Vaikka paino onkin normaalirajoissa, on se silti noussut vuoden sisällä jopa seitsemän kiloa. Nykyisessä istumatyössä se paino tulee herkästi juuri vatsan alueelle josta se aiheuttaa ongelmia myös selkäpuolelle. Nyt on siis aika lopettaa kuvittelemasta, että vatsalihakset ym. pysyisivät itsestään kunnossa ja on aloitettava jälleen kuntoilu.
Istumatyöläiselle olisi tärkeintä saada juuri vatsan ja selän lihakset kuntoon. Vatsalihakset tukevat selkää eivätkä päästä sitä veltostumaan ja vääntymään niin helposti. Toinen tärkeä asia olisi yleiskunnon nostaminen. Siitä kerrotaan seuraavissa postauksissa ja nyt tässä ensimmäisessä keskityn vatsalihasten treenaukseen. Olen ollut SATS kuntokeskuksen jäsenenä noin vuoden verran mutta ikäväkseni en ole siellä juurikaan päässyt käymään. On aika siis keksiä jotain mikä ei vaadi kuukausisopimusta eikä mihinkään erityiseen paikkaan lähtemistä. Valitsin lenkkeilyn sekä vatsalihasten treenaamisen kotona. Voi olla, että käsipainotkin tulevat vielä kuvioihin mutta sen näkee sitten jäljempänä.
Teknisenä kaverina aloin etsimään itselleni jotain harjoitusohjelmaa ja kuinka ollakkaan sellainen löytyi Apple Iphone puhelimeeni. Sovelluksen nimi on 200 Situps.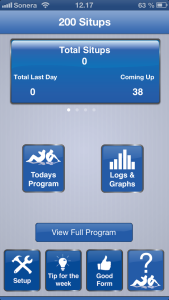 Sovelluksen tarkoituksena on ensin testata nykykunto ja sitten sen mukaisesti seurataan ohjelmaa tavoitteena saada tehtyä 200 vatsalihasliikettä. Esimmäiseksi ohjelma pyytää tekemään niin monta vatsalihasliikettä kuin jaksaa. Ohjeissa sanottiin, että tarkoitus ei ole tehdä istumaan nousuja kuten nimi antaa ymmärtää vaan vatsarutistuksia. Näissä ylävartaloa nostetaan vain noin 30 asteen kulmaan ja pidetään siinä noin sekunnin verran. Voin kertoa, että tämä on mielestäni paljon raskaampaa kuin istumaan nousut.
Kun vatsarutistukset on suoritettu, syötetään saatu määrä siihen varattuun ruutuun. Tämän perusteella ohjelma laskee millä tasolla ollaan valmiiksi. Minä aloitin varovasti ja tein 20 vatsalihasliikettä. Ohjelma sijoitti minut tasolle 2.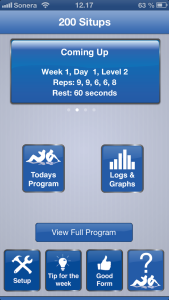 Ehkä treenin tarkoituksena olisi se, että ensimmäinen treenipäivä aloitetaan vasta alkutestiä seuraavana päivänä mutta minä en jaksanut odottaa ja aikaakin sattui olemaan juuri sopivasti juuri silloin. Ohjelma siis laittoi minut tasolle kaksi ja ensimmäisenä treenipäivänä pitäisi tehdä 38 vatsalihasliikettä. Siis 18 enemmän kuin olin juuri hetki sitten tehnyt. Nuo jakaantuvat kuitenkin ohjelmassa osiin. Ensin 9, sitten 9, sitten 6, vielä 6 ja lopuksi 8 tai enemmän jos puhtia riittää. Jokaisen sarjan välissä on 60 sekunnin tauko.
Ohjelma näyttää tauon keston.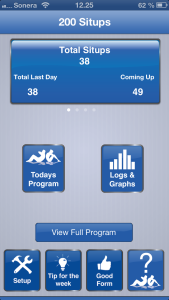 Tein vaaditut sarjat ja viimeisellä vedolla sain 10 vatsarutistusta aikaiseksi. Sitten saikin hetken aikaa pidellä mahaansa, koska vatsarutistukset ovat aina saaneet minulla vatsalihakset kramppiin hetkeksi.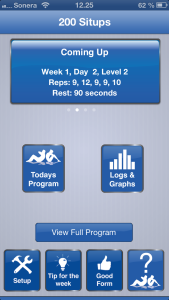 Kakkospäivälle on näköjään varattu 49 kertaa eli 11 enemmän kuin tänään. Tahti tuntuu aika kovalta jos treenin on tarkoitus kestää kuusi viikkoa. Eipä tuo silti haittaa, saavatpahan nuo ylimääräiset lölleröt tuossa vatsan seutuvilla kyytiä.
Loppupäätelmä
Olen nyt siis tehnyt tuota ohjelmaa vain ensimmäisen päivän ja tässä kohtaa ohjelma olisi hirveän helppo lopettaa. Olen kuitenkin päättänyt jatkaa sitä, koska tällainen valmiiksi suunniteltu ohjelma on minulle oikein hyvä. Jos minulla ei ole ohjelmaa, tulen aina tehneeksi liian paljon ja sen jälkeen onkin sitten paikat kipeänä. Sen jälkeen jatkaminen on yleensä vielä vaikeampaa.
Ohjelma on selkeä ja kertoo tarkkaan mitä missäkin kohtaa kuuluu tehdä. Toisaalta älypuhelinsovellukseksi oletin ensin, että kännykkää tulee pitää sylissä suoritusten ajan ja liikkeentunnistin olisi itse laskenut suoritusmäärät. Näin ei kuitenkaan ole. Liikkuja on itse vastuussa siitä, että tekee ohjeiden mukaan. Liikunnassa huijaaminen on kyllä yksi hölmöimmistä asioista mitä voi tehdä, koska tällöin huijaa ainoastaan itseään. Se on hiukan sama kuin golfissa väkisin tasoituksensa laskeminen. Tasoitus kun on nimenomaan tasoitusta verrattuna parempiin pelaajiin, joten miksi joku haluaisi vähemmän tasoitusta kuin omat taidot vaatisivat.
Seuraavalla kerralla siirrymme juoksupuoleen ja kuten tässäkin tapauksessa, joku sovellus olisi siihenkin löydettävä.
***************** MAINOS / ADVERT ***********************************
//
//
**************** MAINOS LOPPUU / ADVERT ENDS **********************
ENGLISH
Hi.
After I stopped doing the vehicle transportation job, my exercising has been less than scarce. It shows! Even if I can be considered as a normal weight person, my weight has still increased about 7 kg in one year. In IT jobs you tend to sit a lot and that is not doing very good to your stomach area. The weight gained usually goes over there and it makes back problems to appear. So now it is time to realize that my abs are not going to stay fit on their own. I have to start exercising.
It is important for a seating worker to work out their abs and back. The abs also support your back and they won't let your backbone to move and twist the wrong way. Another important thing is to increase the overall fitness but well get into that in future posts. This post is about working out the abs. I have been a member of SATS health club for a year now (previously been there about 3 years) but I haven't actually had time to use it much. So it has been totally wasted. It is time to think something different which I can do within my schedule and that I don't need to go any specific place in order to exercise. I chose running and abs training at home. It may very well be that I'll take my dumbbells too at some point but that's left to be seen later on.
Since I am a technical orientated fellow I started looking for some training program and also found one suitable. It's an app for my Apple Iphone and it's called 200 Situps.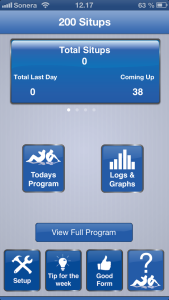 The purpose of this app is first to test you current fitness level and then guide you through the program all the way to the final goal of making 200 sit ups. The first thing you need to do is to check out your initial level. You're asked to do as many abdomen crunches as you can (you need to do crunches and not sit ups even though the name is situps). You only need to lift your upper body about 30 degrees and keep you lower back on the floor. App gives you instructions how to do them safely and correctly. I can tell you that the Crunches are much harder than situps.
After you've done as many crunches as you can, you input the amount for the app. It calculates your current level. I started this carefully and did only 20 crunches. The app put me in to level 2.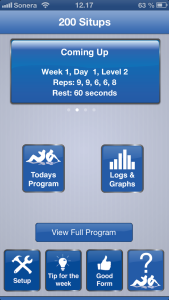 I wonder if it was meant so that the first training day would have been the next day. I wanted to start now when I had the motivation and time so I started the program immediately. So I was at level two and on week 1, day 1 I was supposed to do 38 sit ups which is 18 more I just did. The program divides the total amount in parts. First you do 9, then another 9, then 6 and another 6 and finally 8 or more if you can. Between every series, you need to have a 60 second break.
The app shows how much time you have left for resting.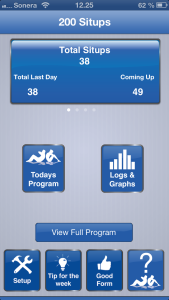 I did all the required sit ups and with the last series I was able to pull 10. After that it was time to hold my stomach for a while since my abs tend to go to a cramp every time I do abs crunches.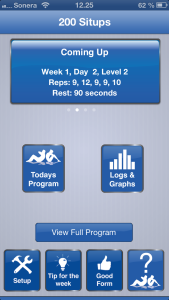 It seems that I need to do 49 sit ups tomorrow (day 2) and that 11 more than today. The tempo seems quite fast if the intention is that this program lasts 6 weeks. No worries though, it's just good if that extra wobbling stuff on my middle body is getting hard times.
Conclusion
So I've only just started doing that training program and it would be so easy to stop here. I have decided to continue the program because this kind of pre-thought training program suits me very well. If I don't have any special program, I always do too many or too much and then all my muscles are in pain and I need to stop it for a week or two. Continuing after such a break is even harder.
This app is clear and tells you exactly what you need to do next. Then again I thought that since this is a smart phone application, I thought that you need to hold the phone while doing the crunches and it will motion detect the amount of crunches itself. It is not like that. You are responsible of putting in the right values and only clicking done when you've actually done the asked amount. Cheating on exercising is one of the stupidest  things you can do because you only fool yourself. It's pretty much like in golf if you force you HCP down. HCP is meant to give you some advance against better players so if you put it down on purpose, you actually play worse than what you could with your skills.
Next time we move on to running and just like in this abs training, we try to find out some kind of app to help in it.