Volvo L120c
In English
Hei
Tällä kertaa pääsimme testaamaan Volvon L 120 C pyöräkuormaajaa soramontulla.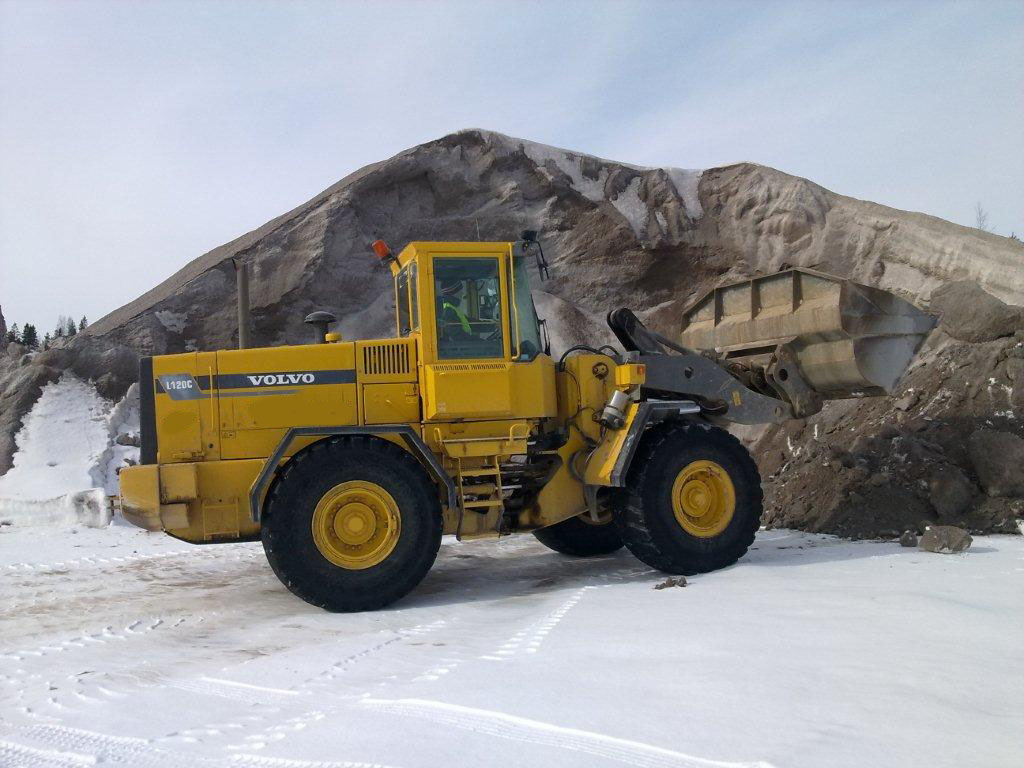 Tämä oli minulle ensimmäinen kosketus BobCatia isompaan pyöräkuormaajaan, joten harppaus oli melkoinen. Kuitenkin moottori piti yllättävän pientä ääntä ollakseen tuon kokoinen vekotin. Tietysti ääntäkin sai tulemaan kun antoi hieman kaasua mitä tarvittiinkin etenkin silloin kun sukellettiin kuvassa näkyvään hiekkakasaan kauha tanassa.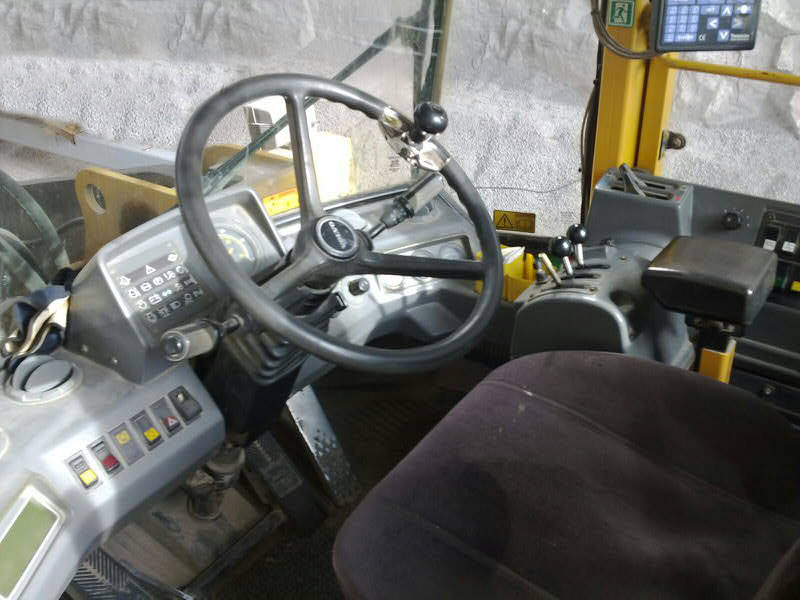 Sisällä oli ensinäkemältä liian paljon säädettäviä vipuja ja nappeja. Pienen opastuksen jälkeen se ei kuitenkaan enää tuntunut paljoakaan trukkia ihmeellisemmältä. Polkimia on kolme, vasemmalla kytkin/jarru, keskellä jarru ja oikealla kaasu. Kuormaaja oli todellä hätäinen kääntymään. Sen huomasi parhaiten silloin kun oli siirtymässä penkille tai siitä pois ja sattui hieman tökkäämään jalalla rattia. Seurauksena oli se, että kuormaaja teki heti nytkähtävän taitos-käännöksen (taittuu keskeltä kääntyessään). Sillä pystyisi hyvin tiputtamaan vahingossa vaikka jonkun huonosti kiinnipitävän alas.
Oikealla kädellä on kauhan säätimet. Nekin olivat tarkoitettuja käytettäväksi sormilla eikä ääriasentoihin kannattanut kääntää ollenkaan. Oikeanpuolimmaisesta säädetiin puomikorkeutta, keskeltä kauhan asentoa ja vasemman vivun tarkoitus jäi vähän epäselväksi kun sitä ei käytetty ja siitä puuttui myös nuppi kokonaan. Puomikorkeussäätimen vieressä oli keinukytkin, jolla määritettiin mennäänkö eteen taakse vai ympä…eikun siis vapaa. Näiden etupuolella oli myös nappi, josta sai valita 1. tai 2. vaihteen.
Oikella puolella ylhäällä oli kauhavaaka, josta "olisi" saanut mitattua kauhallisten painoja. Tämä auttaa varmasti paljon, kun joutuu miettimään paljonko autoonsa voi lastata. Painot ja kauhallisten määrät sai myös tulostettua liuskalle. Käsijarru oli pelkkä keinukytkin hytin vasemmalla puolella. Vasemmalla oli myös eräänlainen informaationäyttö, josta saattoi nähdä mm. käytössä olevan vaihteen, suunnan ja varmasti paljon paljon muutakin jos olisi jännitykseltä ja keskittymiseltä ehtinyt tutkimaan.
Kaikenkaikkiaan tämä oli sellanen isojen poikien leikkikalu, josta silloin joskus hiekkalaatikolla unelmoitiin. Käytön oppiminen oli helppoa. Tosin hyväksi käyttäjäksi (esim. ettei onnistu kolhimaan vaikka kuormattavan auton lavanreunoja tms) kehittyminen vie varmasti aikaa. Mielellään tuolla olisi päristellyt vähän pidempäänkin, mutta tällä kertaa siihen ei ollut mahdollisuuksia.
Hi
This time we got to glance a Volvo L120 loader in a sand quarry.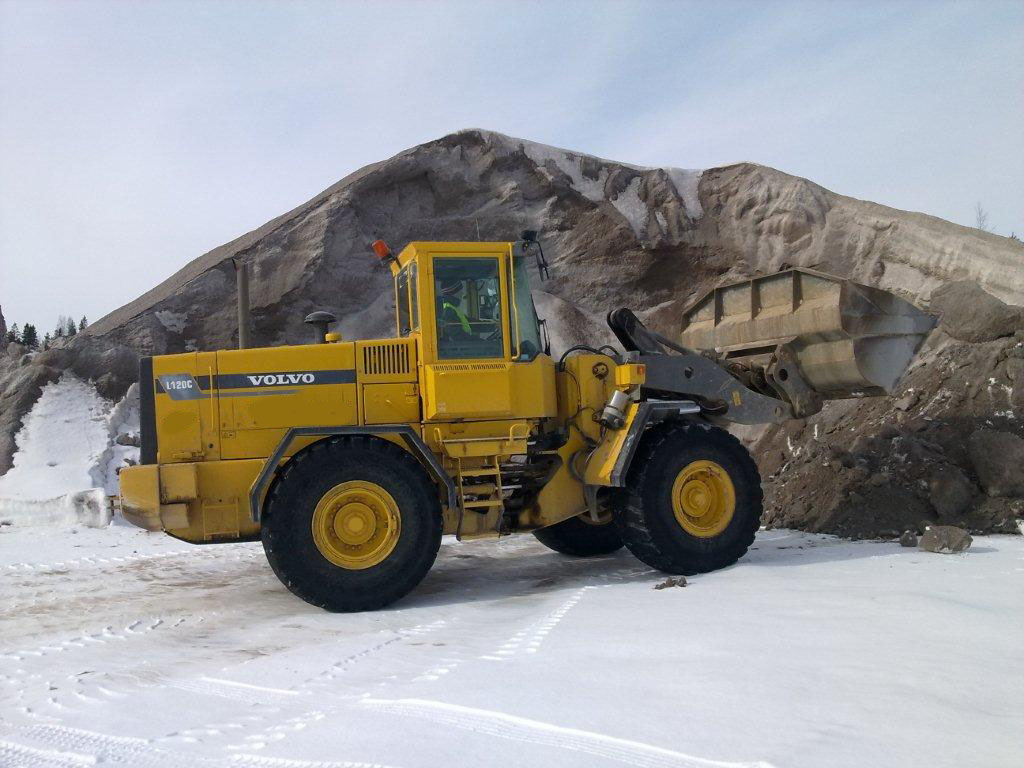 This was the first time that I was able to drive a loader bigger than a BobCat so it was a giant leap for a me. I was a bit surpised though for the sound it made. I think it was way too quiet for a machine of that size. Well, it did made more noice when you gave it a little bit more gass and you needed that when you dove right into a big pile of sand with your big mean looking bucket.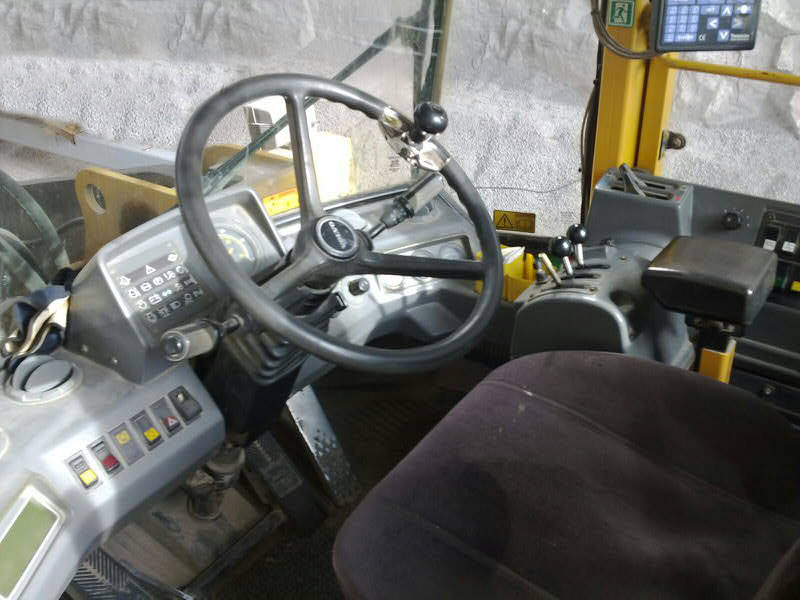 At first glance there were way too many buttons and levers inside. After a bit of a guidance it didn't feel so much different from a fork-truck. There were three pedals, clutch/break on the left, break in the middle and gass pedal on the right. The loader was very sharp turning. You could experience it best when mounting the loader or getting off and accidentally your legs would touch the steering wheel. The outcome was that the loader immeatedly made a sharp twist (it twists from the middle). A perfect way to make someone not prepared and not holding good enough to fall off.
On the right hand size there is the switches for the bucket. They were also meant to be used with your fingers and were very sensitive. The one at the right was for handling the boom and the middle one was for the bucket. The switch on the left had been removed so I don't know the purpose for it. Next to the boom lever was a switch for direction, forward, backwards or arou…I mean neutral. In front of these was also a button where you could choose 1st or 2nd gear.
On the upper-right side there was a bucket scale which would have shown you the weight of your current load. I'm sure this helps a lot when you need to think about how much you can load into a truck. You were also able to print those weight informations to a paper. Handbrake was only a little switch on the left side. There was also some kind of an informative monitor on the left side where you could see the current gear, direction and a lot more I'm sure.
All in all this seemed a lot like a big boys toy, that you dreamed of using while playing the a sandbox as a child. Learning to use it was easy, but mastering it would take much longer. I would have liked to continue playing with it a while longer but this time that was it.