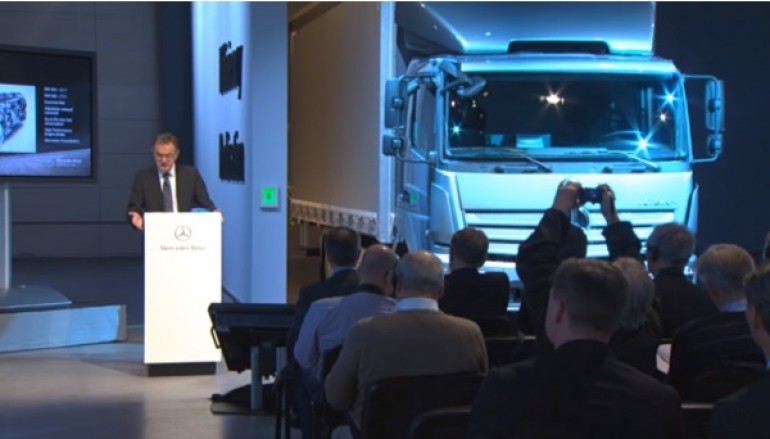 Mercedes-Benz Atego
Mersun uusi jakoauto
For English version, open the full post and click here or just scroll down past the Finnish.
Hei.
Mercedes-Benz aloitti julkistustilaisuuden keskiviikkona noin klo 13:15 Suomen aikaa. Aloin katsomaan tuota lähetystä netin kautta vasta puoli kahdelta ja ilokseni mitään ei ollut vielä näytetty. Noin 13:44 koitti sitten aika, jolloin oven takaa ajoi sisään heidän uusin pikku kuormurinsa eli Atego.

Atego on Mersun pienin kuorma-auto ja tarkoitettu nimenomaan jakeluautoksi. Kun auto rullasi hiljalleen esiin särmin takaa, näytti siltä kuin sieltä tulisi isokin kuorma-auto. Uuden Ategon ilme onkin saatu hyvin samanlaiseksi kuin isoveljissään eikä se näytä enää niin perinteiseltä kuin monet muut pikku-kuormurit.
Mersun mukaan Atego on hyvin ympäristöystävällinen ja kuluttaa vähän. Auto täyttää Euro 6 päästönormit sekä kuluttaa 5 % vähemmän polttoainetta kuin edellinen malli. Autoa on myös saatu kevennettyä. Lisäksi auton on kerrottu kuluttavan AdBlue:ta jopa puolet vähemmän verrattuna Euro 5 moottoreihin.
Atego on saatavana seitsemällä eri BlueEfficiency Power moottorilla ja niiden tehot vaihtelevat välillä 156–299 hevosvoimaa. Moottorikoot ovat joko 5,1 litran nelisylinterinen tai 7,7 litran kuusisylinterinen common-rail. Vakiona tulee PowerShift 3 automaattivaihteisto joko 6 tai 8 vaihteella, riippuen moottorin koosta. Auton saa kuitenkin halutessaan myös käsivalintaisella vaihteistolla. Silloin vaihteita on 6 tai 9.
Ohjaamossa on myös tapahtunut muutoksia. Puskurissa on nyt integroidut päivävalot ja halutessaan ne saa myös LED-valoina. Sisätilat näyttävät tilavilta ja niissä on ison auton tuntua. Monitoimiratissa on paljon toimintoja ja näyttäisi säilytystilaakin löytyvän reippaasti.
Ategosta voi lukea lisää Daimlerin sivuilta.
Loppupäätelmä
Uusi Mercedes-Benz Atego näyttää varsin hyvältä jakeluautolta. Mersu on tehnyt hyvää työtä päästöjen vähentämiseksi ja mikäli kulutuslukemat pitävät paikkansa, auttaa se auton omistajaa. Kuljettajaa mielistellään uudistuneilla penkeillä sekä tilavammalla ohjaamolla. Nukkumapaikkaa he eivät sentään ole vielä lisänneet penkkien taakse.
Varmasti hyvä peli ajaa mutta siitä emme voi tietysti paljoa sanoa ennen kuin saamme tämän testiin. Sitä sitten jäämme odottelemaan.
Tiedot oli peräisin Daimlerin sivuilta.
*********** Mainos/Advert ***********************
*********** Artikkeli jatkuu / Article continues *******

a New delivery truck from Mercedes-Benz
Hi.
Mercedes-Benz began their presentation on Wednesday at around 12:15 CET. I missed the first 15-minutes from the beginning but nothing was shown before 12:44. Then it was time to open the door and a new Mercedes-Benz Atego, their smallest truck, rolled in.
Atego is designed to be a delivery truck. When it emerged from behind the door, it looked very much like it would have been a much bigger truck. They have designed this little model to look like its big brothers and doesn't look as simple as many delivery trucks before.
According to Mercedes, the Atego is very environmental friendly and consumes less than before. This truck fits nicely to the new Euro 6 standards and consumes about 5 % less fuel than the predecessor. It's become lighter as well. They have also said, that it consumes 50 % less AddBlue than the Euro 5 engines.
Atego can be equipped with 7 different BlueEfficiency Power engines ja the power on those varies between 156 and 299 horsepower. The size of the engine is either 5.1 liter 4-cylinder engine or 7.7 liter 6-cylinder common-rail engine. They come with a new PowerShift 3 transmission (6 or 8 gears) by default but you can also get it with a manual gearbox with 6 or 9 gears.
The cockpit has changed too. There are integrated daytime-lights on the front bumper and you can get them with LED-lights if you want. The interior looks roomy and feels like a bigger truck. The multifunction steering wheel has many functions and you'll get a decent amount of storage space too.
If you want to know more, you can check out Daimler web page.
Conclusion
The new Mercedes-Benz Atego looks like a very nice delivery truck. Mercedes has done a good job with the consumption levels. They have also cared about the driver with the interior design and increased space. One thing they haven't done yet though is adding a bed.
I'm sure this is a very nice truck to drive but we can't be sure of it until we get a chance to test it ourselves. So let's wait for a while and then we hand it over to our bellowed Truck test-driver.
The information presented here was from the webcast and from the Daimler web site.