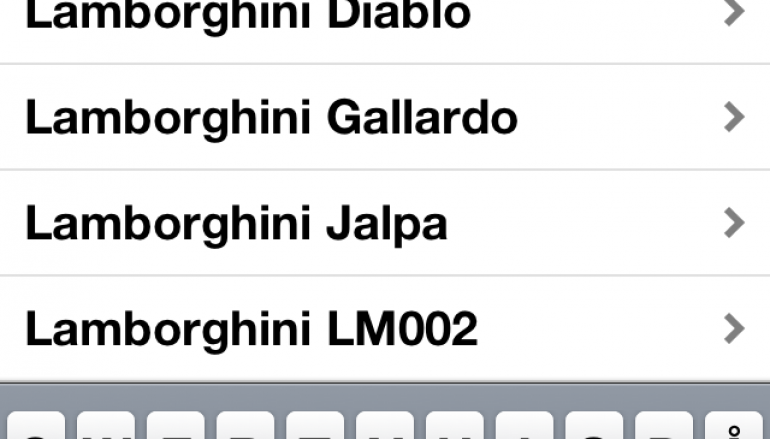 Mopedi
Mobile wikipedia (Mopedi)
Open the full post and click here for English version or scroll down.
Hei.
Mpaja Oy lähestyi meitä ja antoi testattavaksi heidän uusimman versionsa Mopedi sovelluksesta. Kyse on siis wikipediasta, joka ladataan lokaalisti mobiililaitteeseen. Tässä vaiheessa useimmilla meistä varmaan nousee kulmakarva ja ihmettelemme mihin moista sovellusta tarvitaan kun laitteet ovat jatkuvasti verkossa. Ennen kuin vastaamme tähän, katsotaan hieman miltä sovellus näyttää ja mitä siinä on.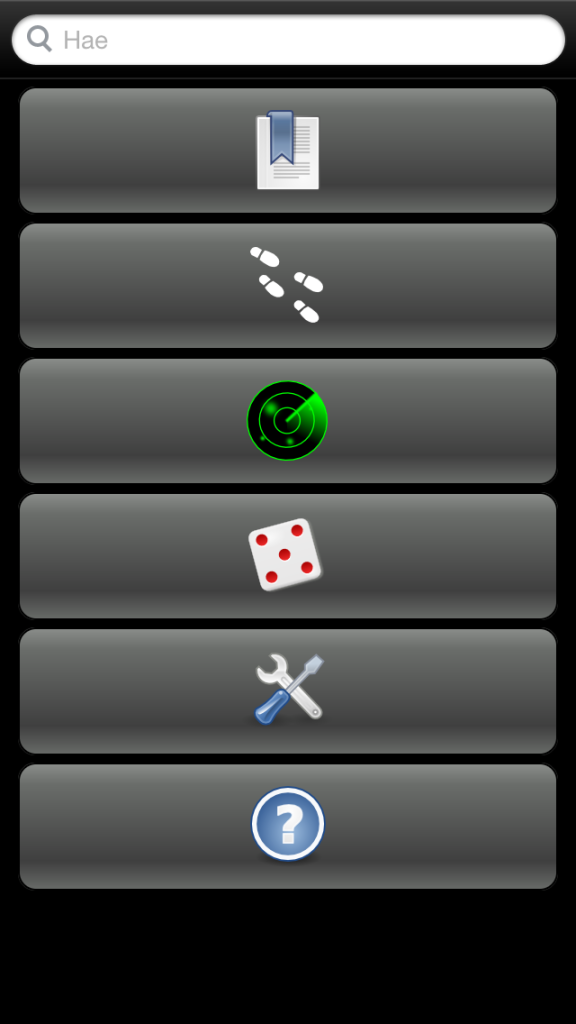 Mopedi näyttää kaikessa yksinkertaisuudessaan tältä. Kuusi kuvaketta allekkain.
Kirjanmerkit
Historia eli listaa ne mitä olet hakenut
Lähellä
Satunnainen artikkeli
Asetukset
Ohje
Käydään kohta kaikki erikseen läpi, mutta katsotaan ensin miten ohjelman saa laitteelleen ja mitä kieliä Mopedi tukee.
Asennus
Mopedi sovellus on saatavilla Applen laitteille (Ipod, Iphone ja Ipad) sekä Nokian kosketusnäytöllisiin puhelimiin. Pikamulkaus testasi sovelluksen Iphone 5 älypuhelimella. Asennus lähtee siitä, että suunnataan Applen AppStoreen ja haetaan Mopedi sovellus.
Sovellus ei kuitenkaan ole ilmainen vaan siitä joutuu pulittamaan 8,99€.
Sovellus asentuu nopeasti, koska siinä on pelkästään käyttöliittymä. Itse wikipedia tietokanta täytyy asentaa erikseen. Siihen on kaksi tapaa, joko suoraan sovelluksesta tai sitten lataamalla ensin tietokoneella tiedoston MPajan sivuilta ja sitten ITunesin avulla siirtää se puhelimeen. Latasin sovelluksen Iphonen Appstoresta, joten päätin etten sotke kuvioihin tietokonetta myöskään databasen kohdalla. Avasin siis Mopedi sovelluksen ja menin asetuksiin. Sieltä alimpana löytyi tietokantaa esittävä kuvake.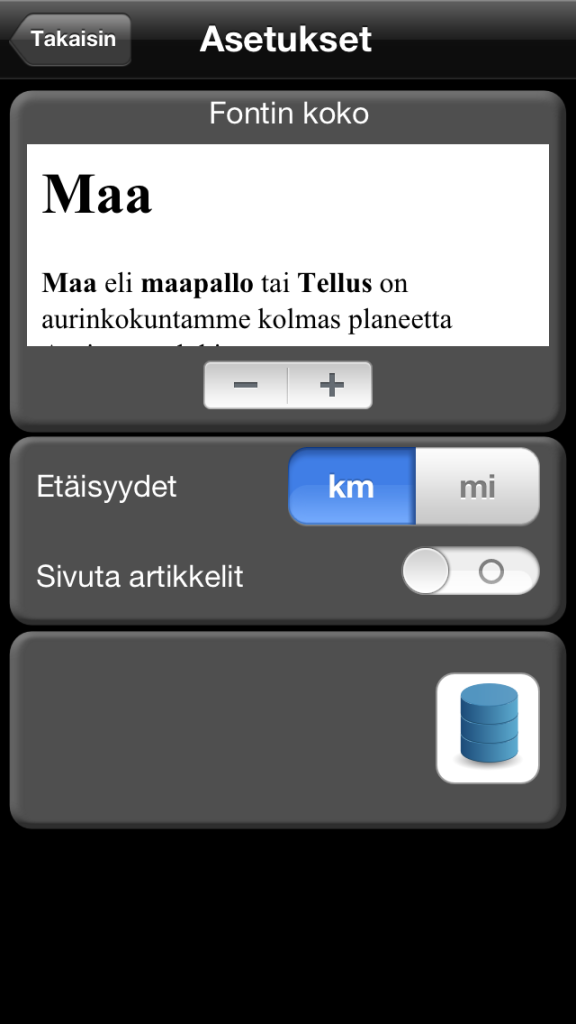 Kun kuvaketta painoi, ilmestyi lista saatavilla olevista tietokannoista.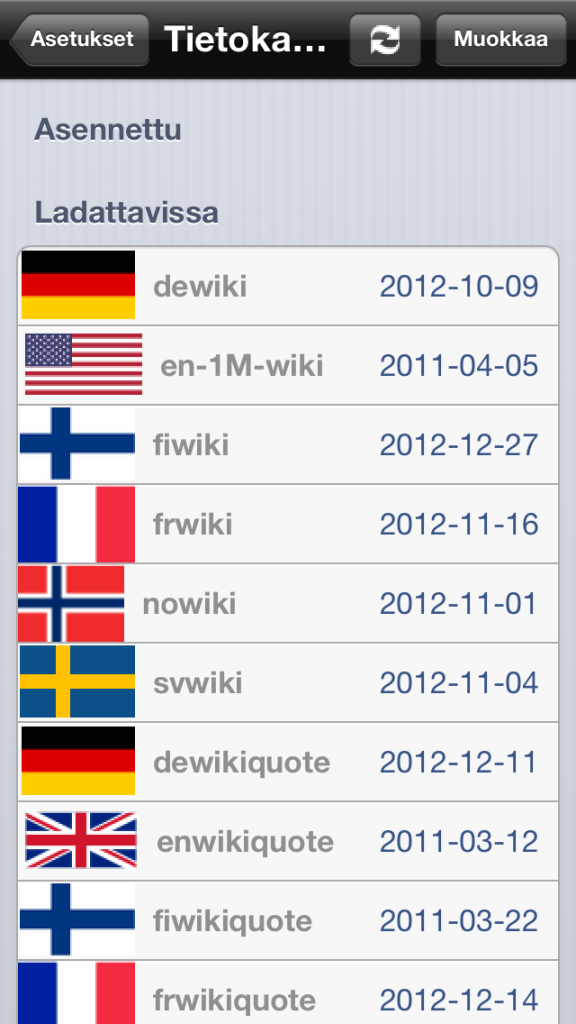 Puhelimeni oli liitettynä WLAN verkkoon (joka sitten on yhdistetty 100mb laajakaistaan), joten kuvittelin 1.5Gb tietokannan tulevan suhteellisen ripeästi. Väärin! Valitsin 27.12.2012 päivätyn suomenkielisen tietokannan ja lataamiseen meni kaiken kaikkiaan kolme päivää. Oli suoranainen ihme, että tulin odottaneeksi edes latauksen loppuun. Halusin kuitenkin nähdä minkälainen sovellus on, joten odotin. Puhelimeni ei tietenkään ollut jatkuvasti samassa wlan verkossa, eikä välillä ollut muita kuin 3G yhteys käytettävissä. Lataamista joutui kuitenkin potkimaan vähän väliä.
Eli
En todellakaan suosittele kenellekään tätä lataustapaa vaan kokeilkaa mielummin ladata sitä Mpajan sivuilta. Testasin tämänkin tavan ja tietokannan lataaminen kesti alle 5 minuuttia. Täytyy myöntää, että näin jälkeenpäin harmittaa kun lähdin lataamaan sovelluksen kautta.
Suomenkielinen tietokanta ei kuitenkaan ole ainoa kieli, jonka voi valita, Kielivaihtoehtoja ovat seuraavat:
suomi
saksa
ranska
englanti (3 erilaista versiota)
ruotsi
norja
italia
Näiden lisäksi on vielä wikilainaukset seuraavilla kielillä
englanti
suomi
saksa
ranska
Mpajalta sain sellaisen tiedon, että listaa kasvatetaan jatkuvasti.
Käyttö
Kun tietokanta on saatu laitteeseen, voi Mopedi sovellusta alkaa käyttämään. Aloitusruudun yläreunassa on haku palkki, johon voi alkaa kirjoittaa hakemaansa asiaa ja samalla sovellus alkaa ehdottaa sopivia artikkeleita. Joko siis kirjoitat haettavan asian kokonaan tai sitten valitset sen listalta kun se sinne ilmestyy. Jostain syystä minulla tuli ensimmäiseksi mieleen siili.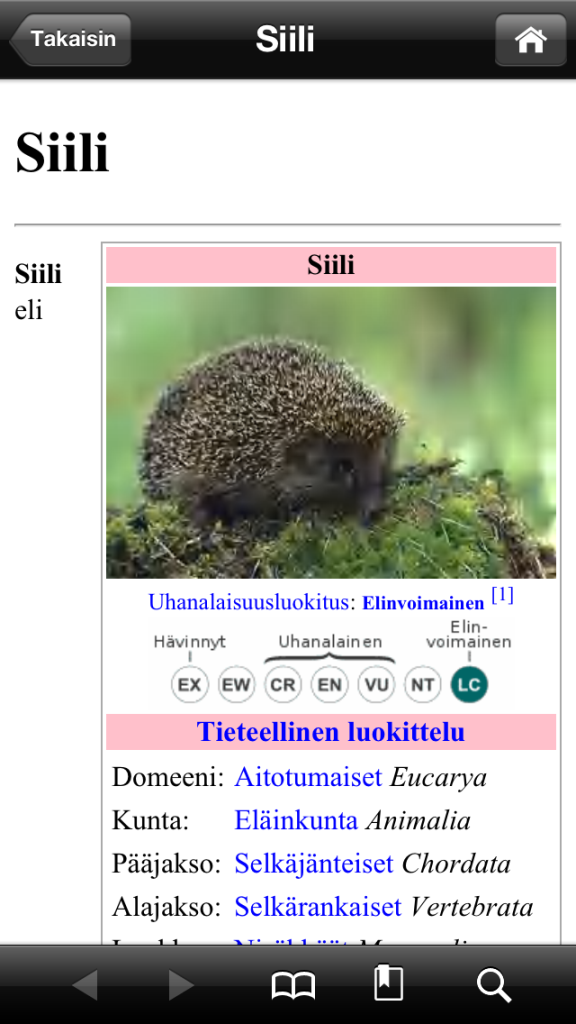 Tulokset ja artikkeli siilistä tuli esille ilman latausaikoja tai odotusta. Kokeillaan jotain muuta.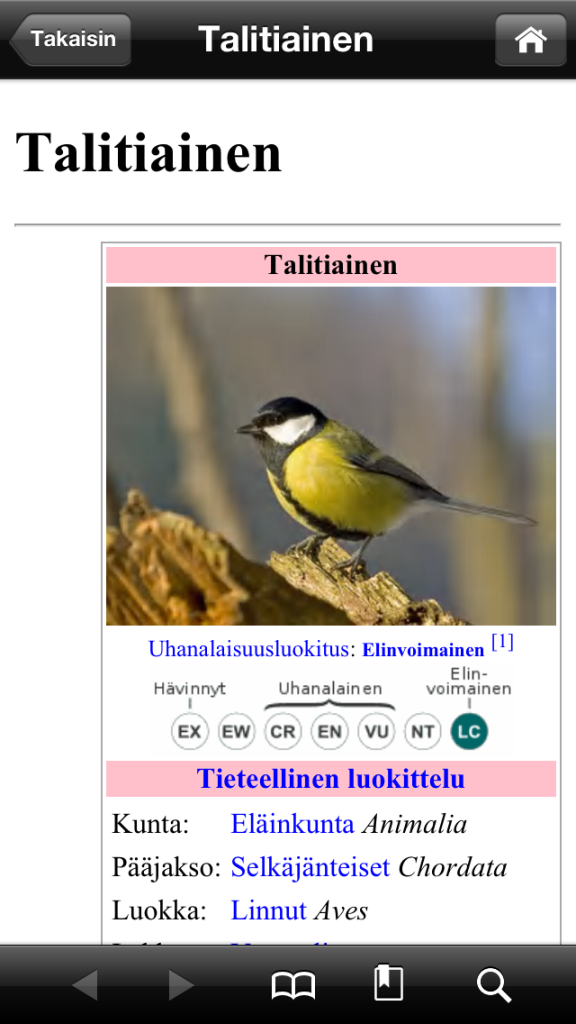 Jälleen vastaus tuli samantien ja artikkeli oli hyvin kattava. Hakutoiminnalla voi siis hakea mitä mieleen tulee ja artikkeli saadaan ruudulle välittömästi.
Kun katsotaan taas valikkoa, niin kaksi ylimmäistä (kirjanmerkit ja hakuhistoria) olivat niin itsestään selvyyksiä etten niitä testannut. Kolmas vaihtoehto oli sitten haku läheltä. Tämä käyttää avuksi paikannusta ja hakee tosiaan tietokannasta löytyviä asioita, jotka ovat juuri lähellä sinua. Pikainen testi näytti ylimpänä oman sijaintini koordinaatit, sitten oli tietoa läheisestä joesta sekä linkkitornista. Hei, tämähän on oikeasti kätevä! Jokaisen tuloksen kohdalla on mainittu etäisyys kyseiseen kohteeseen.
Seuraava kohta valikossa on arpanoppa, joka esittää satunnaista artikkelia. Valitsin sen.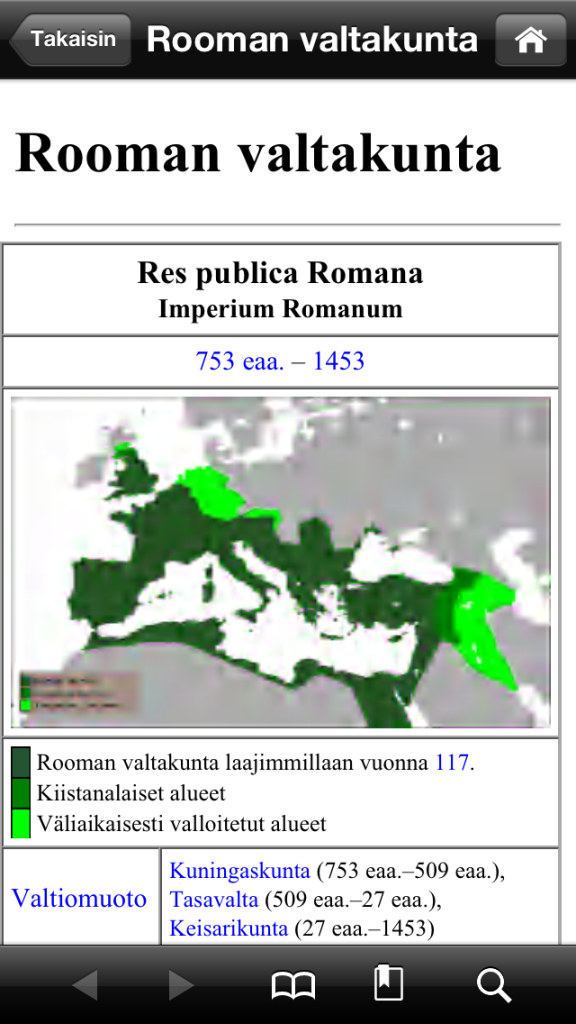 Sain tietoa Rooman valtakunnasta.
Viimeiset valinnat olivatkin asetukset ja ohje. Halusin kuitenkin vielä hakea hieman tietoa autosta, jossa pääsin istumaan.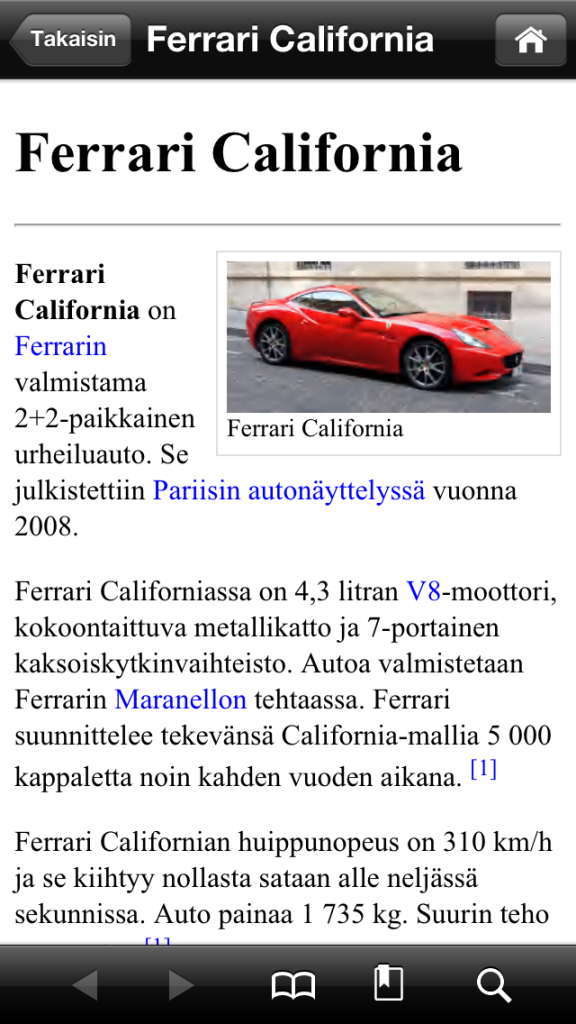 Loppupäätelmä
Minulla oli tähän sovellukseen hieman huonot ennakkoluulot. Se tuntui hieman samalta kuin joku tulostaisi CD:llä olevan tietosanakirjan. Aivan turhalta siis. Kuitenkin kokeiltuani Mopedi sovellusta, ymmärsin missä tämä voisi oikeastaan olla hyvä. Ennakkoluulottomuus on tässä kova sana.
Plussat:
+ Hakutulokset tulevat heti, ei odottelua
+ Ehdottomasti paras asia sovelluksessa oli tuo hae läheltä toiminto. Jos vaikka olet matkalla, pystyt saamaan helposti tiedot nähtävyyksistä etkä välttämättä tarvitse opasta kertomaan samoja asioita.
+ Toimii ilman mitään verkkoyhteyksiä (testit tehty lentokone tilassa, paitsi "hae läheltä" testi). Ei murheita roaming-maksuista.
Miinukset:
– Tietokannan lataaminen sovelluksen kautta menee yli sietokyvyn.
– Tietokanta ei päivity itsestään vaan se pitää ladata uudelleen jos haluaa uusimman version. Kysymys kuuluu myös, lähteekö vanha jotenkin pois?
– Tietokanta on 1.5 gigatavun kokoinen. Tämä syö aika ison osan kapasiteetista. Varsinkin jos on perusmallilla liikenteessä.

English
Hi.
Mpaja Inc contacted us and gave the newest version of their app called Mopedi for a test. It's a wikipedia reader where the database is installed locally in to the mobile device. At this point, an eyebrow will lift and we wonder what is the point of that kind of a software when all the devices are constantly connected to the network. Before we can answer to that question, we need to take a look at the software and see what it holds inside.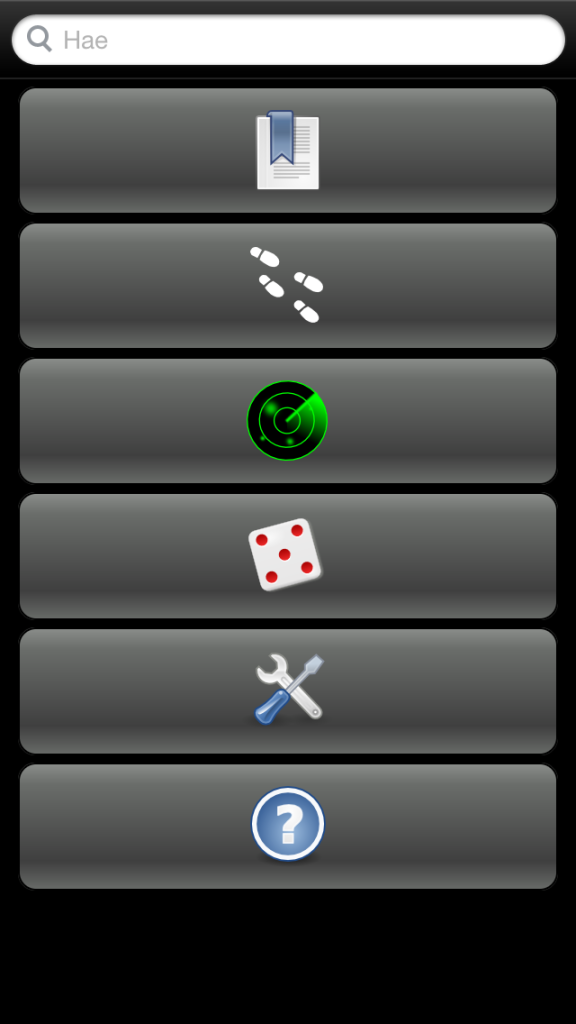 Mopedi looks in all its simplicity like this. 6 buttons on top of each other.
Bookmarks
History (what you have been looking for)
What's near
a Random article
Settings
Help
Let's go through all of them soon but first we take a look how you get this app and what languages is there to choose from.
Installation
Mopedi app is available for Apple devices (Ipod, Iphone and Ipad) and for Nokia touchscreen phones. Pikamulkaus tested his with Iphone 5 smartphone. You begin with opening Itunes and going into AppStore and finding Mopedi.
This application is not free. It costs $9.99.
Application is installing very fast because it only includes the user interface. You have to install the database separately. There is two ways to do that, either you use the Mopedi application to download and install the database or you can download the database from Mpaja site and use ITunes to transfer it in to your device. I used the app store in my Iphone to download the application so I thought I'd use the phone to get the database as well. So there I was opening the application and chose settings. There was an icon representing database at the bottom of that screen.
Sorry about the Finnish screenshots. I'm sure you'll get the idea.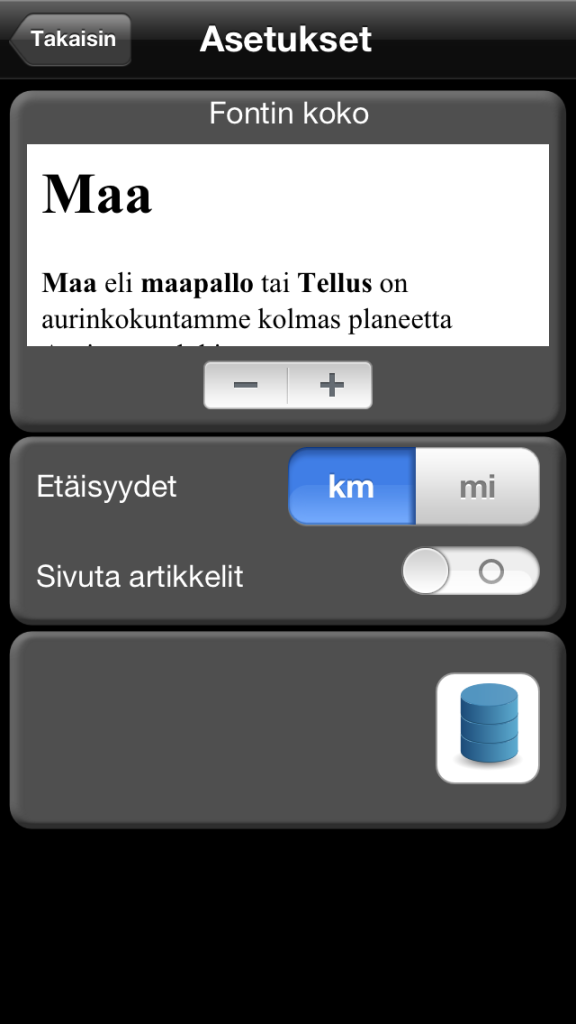 After clicking the icon, there was a list of available databases.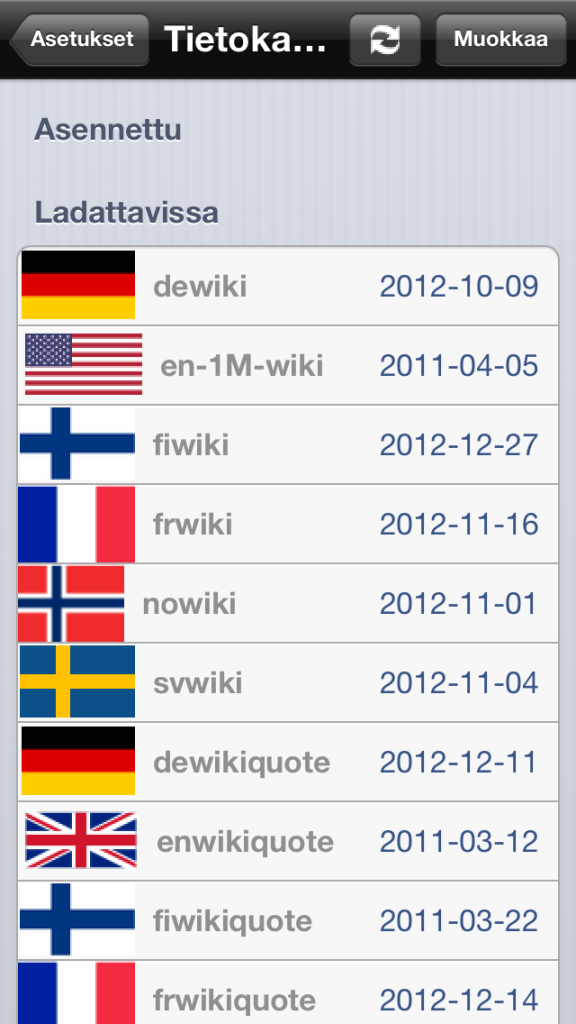 My Iphone was connected to a Wlan network (which is connected to a 100mb broadband) so I though downloading that 1.5Gb database would be relatively quick. Wrong! While I chose the Finnish database dated 2012-12-27, it took me three days to complete the download. It was a miracle that I waited that long. I wanted to see how this application worked, so I waited and waited some more. Naturally my Iphone wasn't connected to that wlan the whole time. Sometimes it was in a another wlan or just in 3G network. I had to remind the application to keep downloading the file pretty often.
So
I do not recommend this option of getting the database to anyone. Download the database from Mpaja's site. I did test this way too and it took me under 5 minutes to download it. I have to admit that I'm not very happy about the fact that I did it from the application.
Finnish database is not the only option here. You can choose from these languages:
Finnish
German
French
English (3 versions)
Swedish
Norwegian
Italian
In addition there are the following wiki-quotes available
English
Finnish
German
French
Mpaja told me that they keep increasing the amount of databases constantly.
Usage
After you have finally go the database in to your device, you can start using the Mopedi application. There is a search bar on top of the menu and you can start typing your search item there and it will try to guess what you are trying to look for. You can either type it completely or choose it from the list that emerges below. For some reason unknown, the first thing I though was a hedgehog.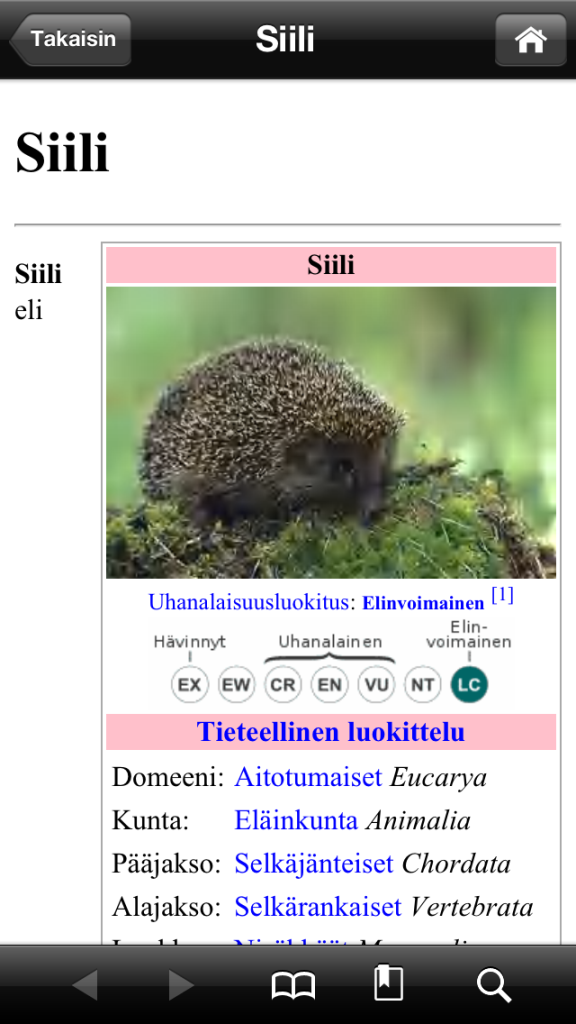 The results and the article came very fast. No loading time or waiting. Let's try something else.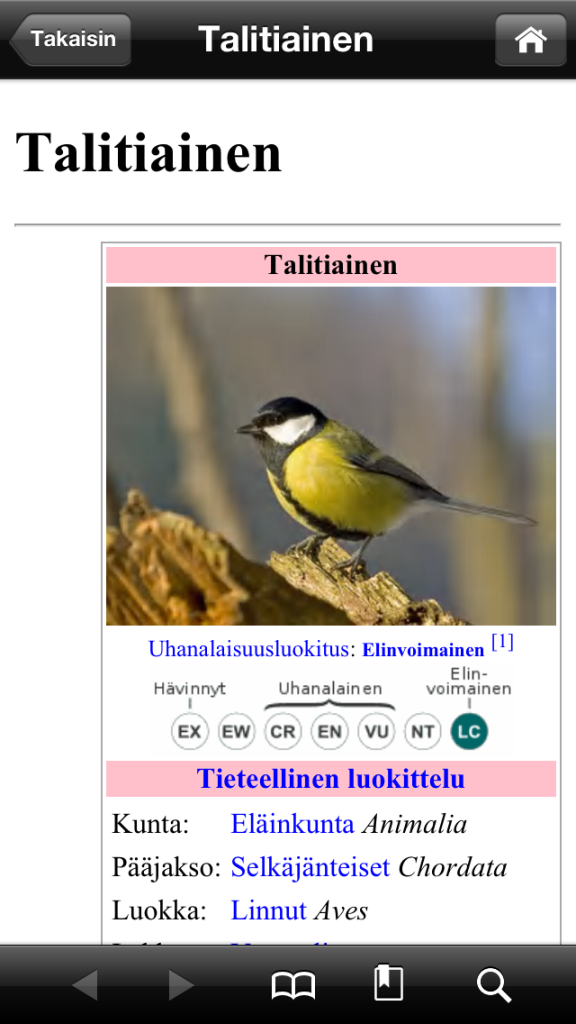 Once again I got the results immediately and the article was very thorough. So you can use the search bar to search for what ever comes to your mind and you'll get the information fast.
Let's go back to the menu. The 2 icon on top (bookmarks and search history) are pretty self-explanatory so we'll just skip them. Third button is a search from near. This one used navigation on your device and lists articles about things that are near you. A quick test gave my current co-ordinates, information about a river and a communication link tower near me. Hey, this actually seems like a really nice feature! With every result, there was a distance to the object mentioned.
Next thing on the menu is an icon of a dice. You can get a random article using that.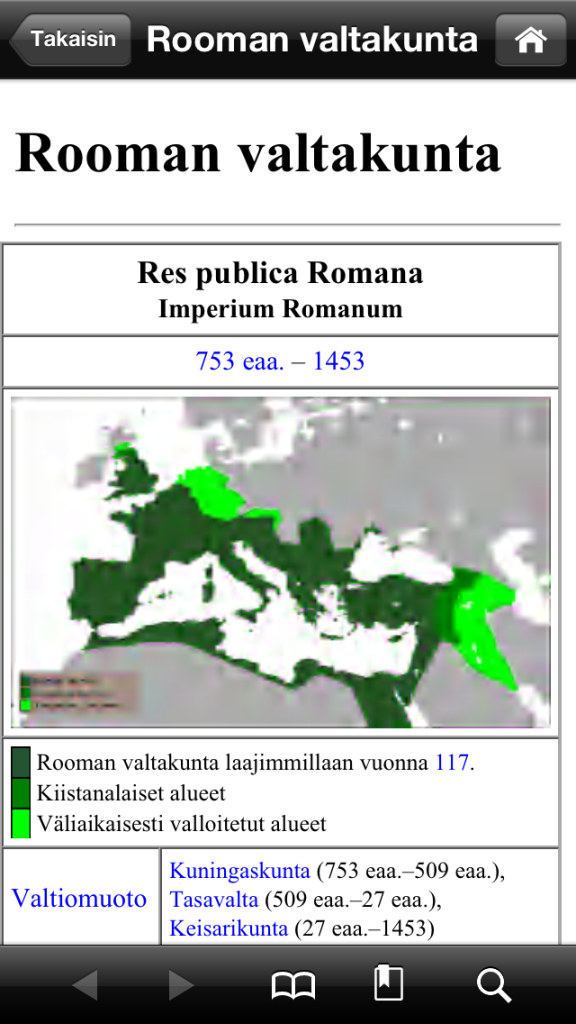 So it gave me information about the Roman Empire.
Last options in the menu were the settings and help. Instead, I wanted to get some information about the car I was lucky enough to sit on some time ago.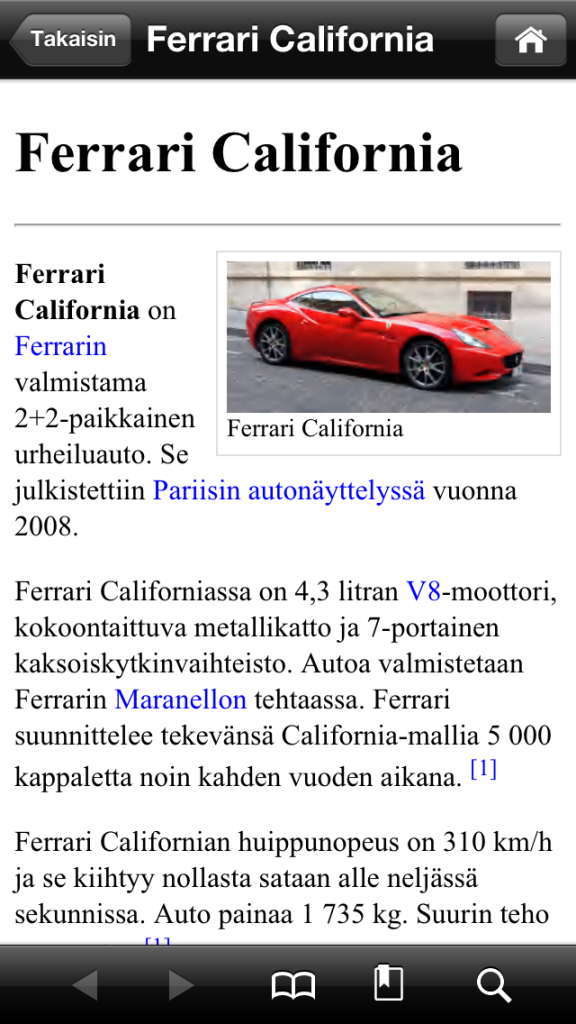 Conclusion
I didn't have very good prejudices on this application. It felt a bit like someone printing the encyclopedia from a CD. After testing the Mopedi application though, I noticed the things where this will really shine. Don't judge it too hard before giving it a go.
Pros:
+ Results are immediate. No waiting time.
+ The absolute best thing in this application is the "search from near" function. Let's say you're on a holiday somewhere. You can easily get information about the sights near you and then you don't need a guide to tell you about the facts.
+ Works without any network connections (tests are completed with the airplane mode on, except "find from near" test). You don't have to worry about the roaming costs.
Cons:
– Downloading the database with the application is a torture.
–  Database is not updated automatically. If there is a newer version available, you need to manually update it. Question is, can you get the older database away?
– Database is 1.5 gigabytes. This takes a big part of the capacity of your device, at least if you got the basic version.