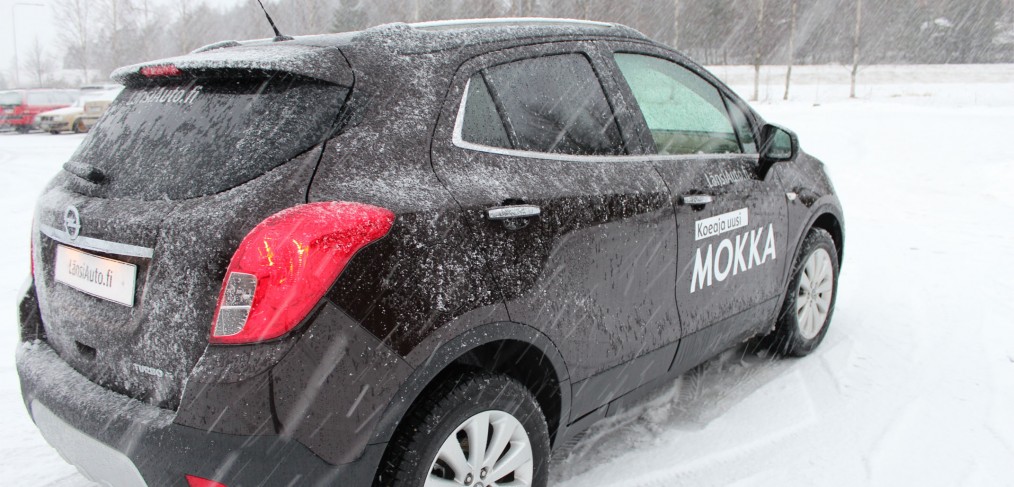 Opel Mokka
Opel Mokka 1.4 Turbo 4×4
Open the full post and click here for English version or scroll down.
Hei.
Opelilta ilmestyi juuri uusi haastaja crossover luokkaan mallinimeltään Mokka. LänsiAuto Turku tarjosi meille mahdollisuutta koeajaa tämä uutuus.
Koeajo auto oli 1.4 litraisella Turbo koneella ja varustepakettina oli Cosmo. Kaikki neljä pyörää olivat vetäviä. Koeajoyksilössä oli lisävarusteista asennettu business (bi-xenonit, urheiluistuimet ja keskikyynärnoja) ja luxus (kattoluukku, kaistavahti ja liikennemerkkien lukeminen) paketit.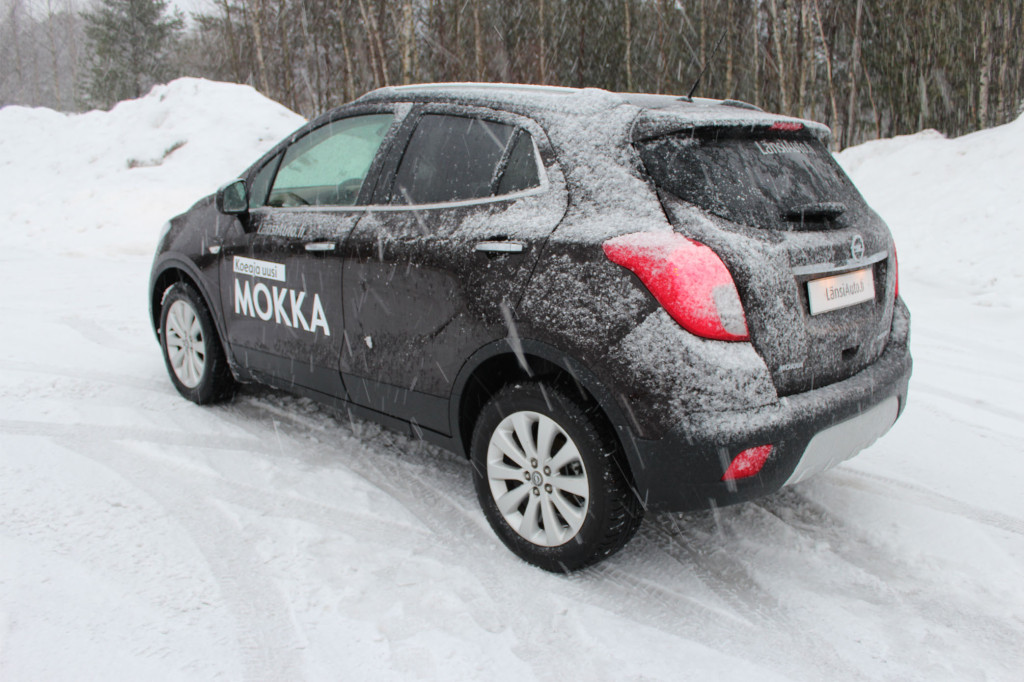 Opel Mokka sijoittuu luokkaan, joka on suunnilleen henkilöauton ja citymaasturin välissä. Näitä on kutsuttu crossovereiksi. Mokka kilpailee Skoda Yetin ja Nissan Qashqain kanssa. Lähtöhinnoiltaan Mokka on näistä kolmesta edullisin.
Open Mokkan muodot ovat pyöreät ja keula on korkea.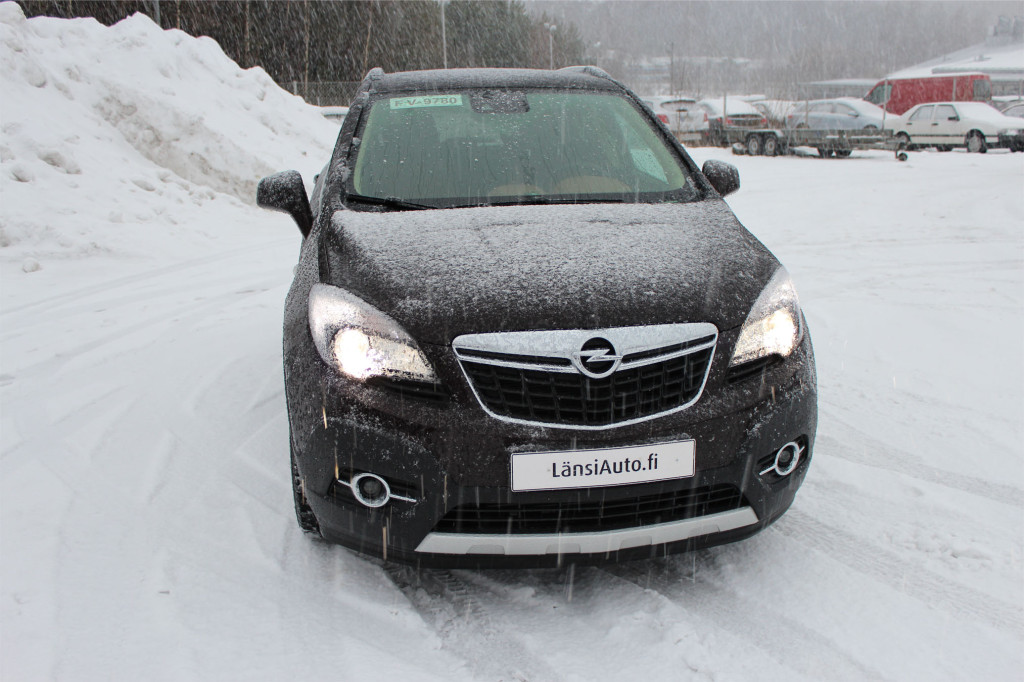 Tässä koeajamassamme Mokkassa oli bi-xenon valot. Näillä näki hyvin ja mutkia varten oli myös kääntyvät valot, jotka valaisevat sisäkurvin.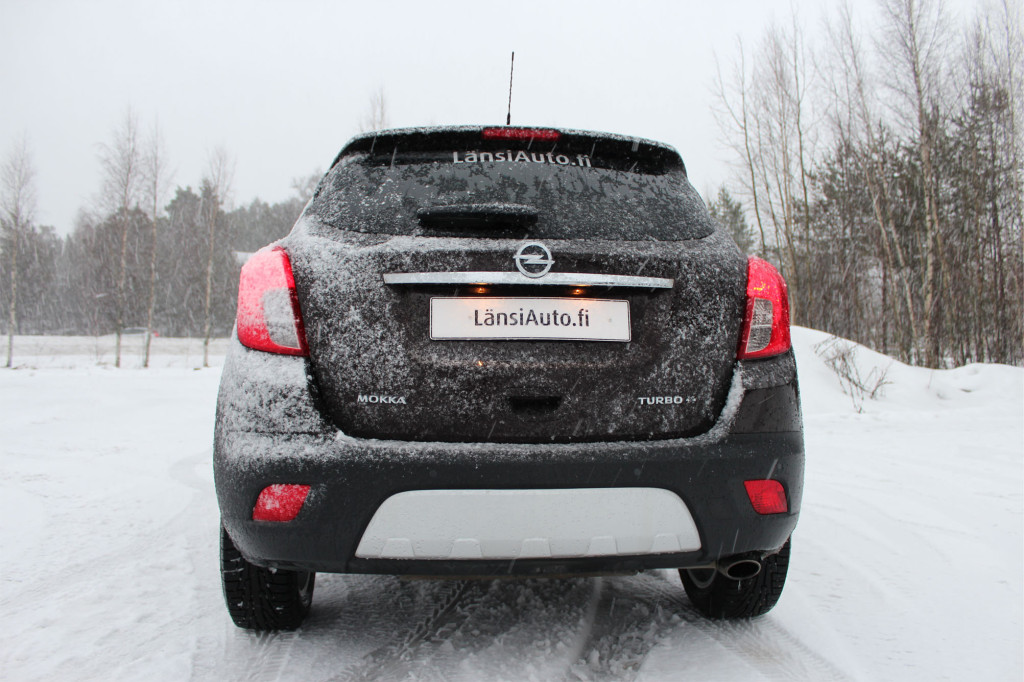 Takaosassa ei ollut mitään ihmeellisyyksiä vaan auto oli pelkistetty. Tässä autossa katse kohdistuu takapäässä kahteen tekstiin.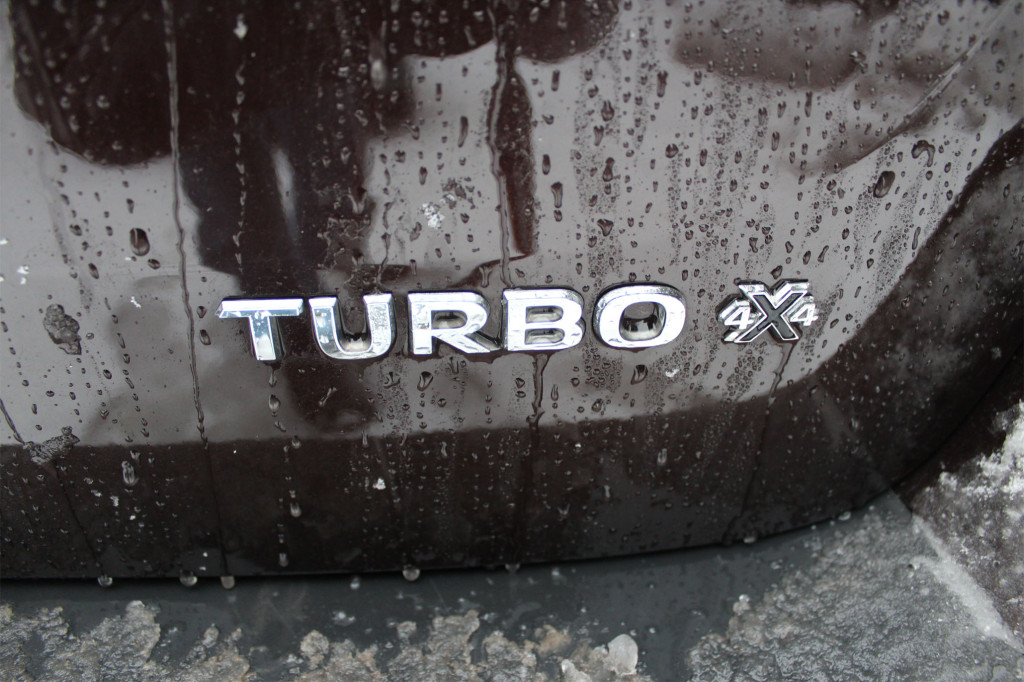 Turbo ja 4×4 kertovat suorituskyvystä ja siitä, että talvikeleille on alla oikea malli.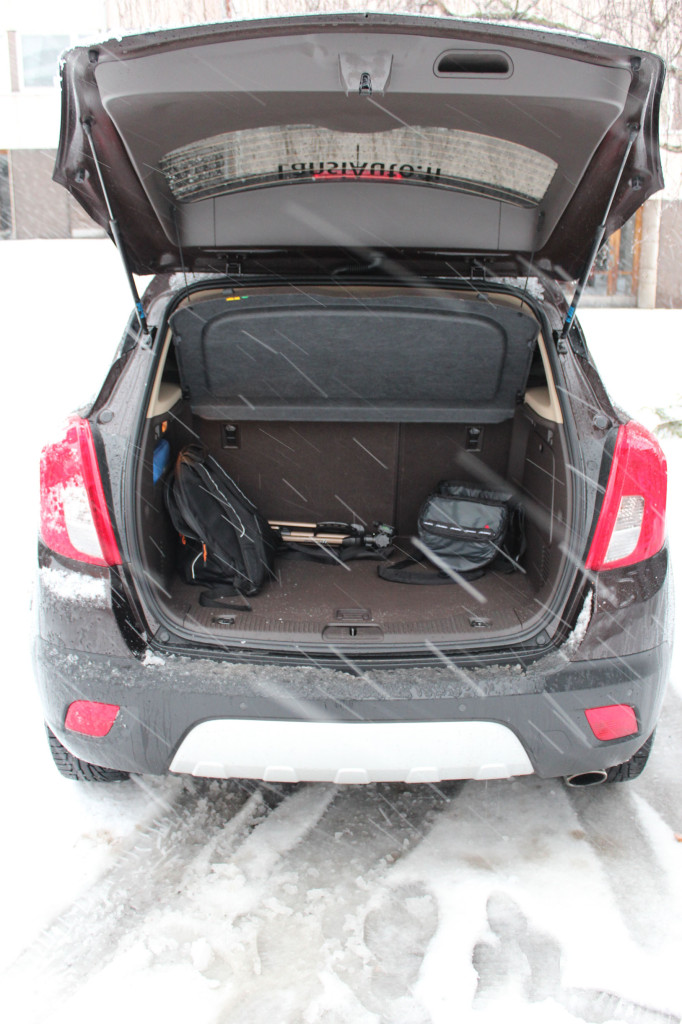 Takaluukku aukeaa ylös eikä vaaraa pään kolhimiseen ole. Hattuhylly nousee myös mukana.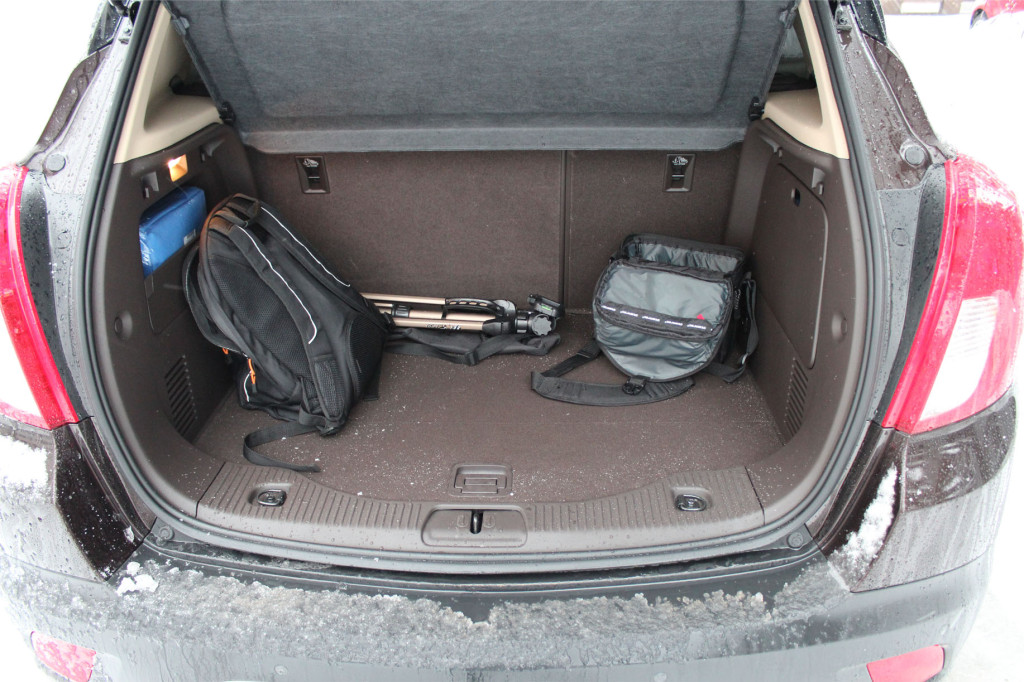 Jos kuljetat mukanasi ostoskasseja, kameratarvikkeita, reppua tms pientä, riittää tavaratila oikein hyvin. Matkalaukkujakin sinne saa varmasti pari kappaletta mahtumaan mutta lapsiperheelle tämä on aivan liian pieni.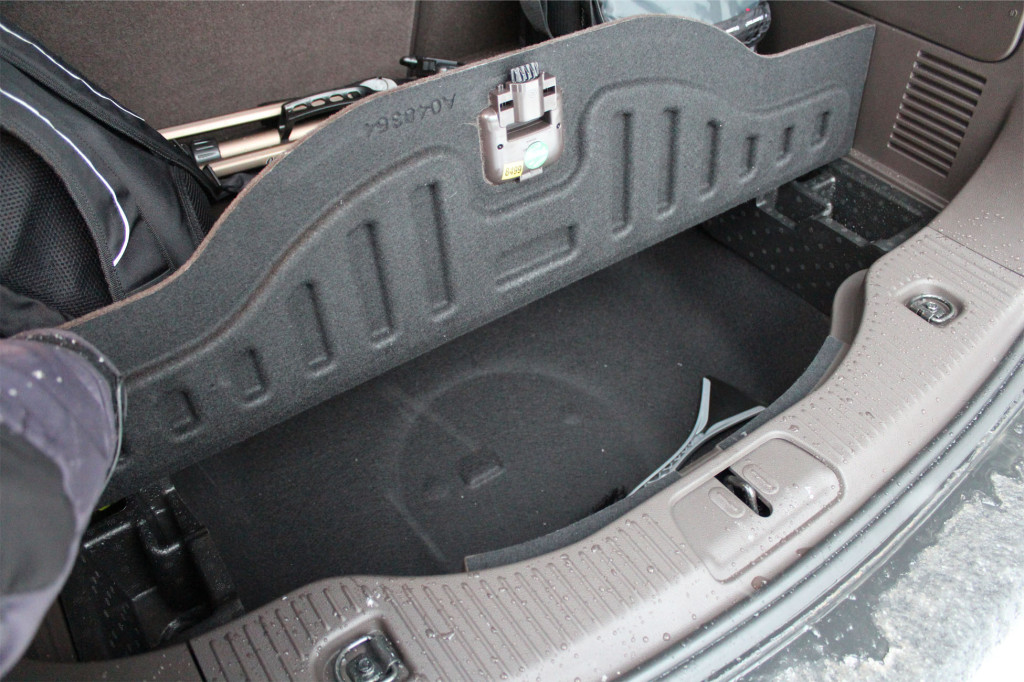 Vararenkaalle varatun tilan saa myös käyttöön välipohjan nostamalla. Tällöin korkeus kasvaa huomattavasti ja kapasiteetti kasvaa.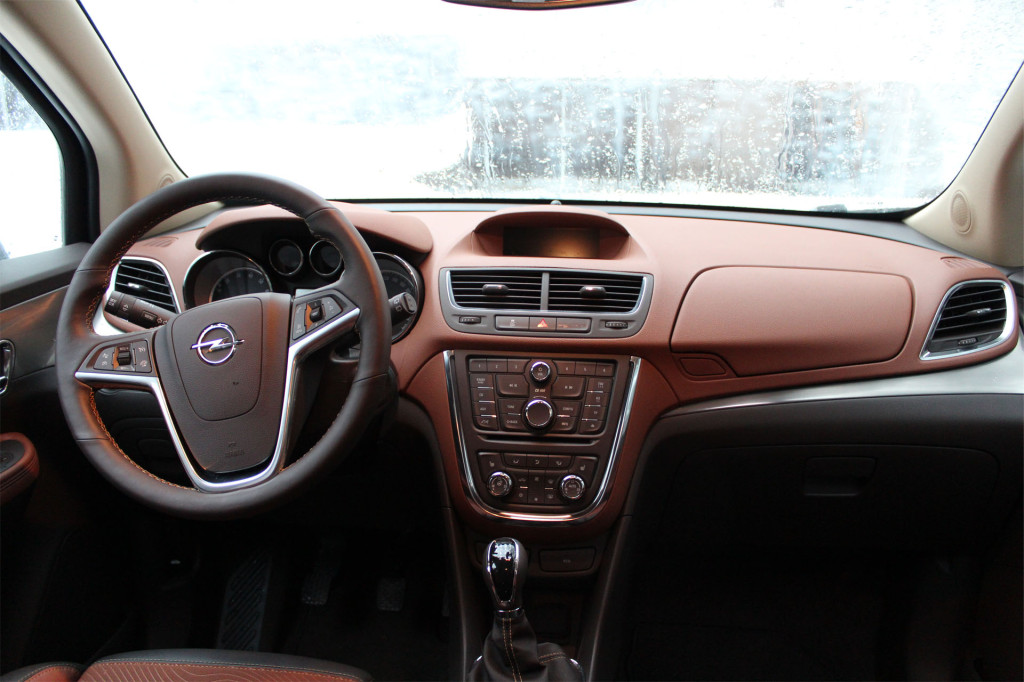 Sisältä Opel Mokka on Astramainen, aika pelkistetty siis. Omasta mielestäni tämä oli kuitenkin aika miellyttävä, sillä se antoi rauhallisen kuvan eikä sinne ole yritetty väkisin tunkea liikaa painikkeita tai näyttöjä. Vaihdekepin nuppi oli hyvin muotoiltu ja siitä sai tukevan otteen. Ratista löytyi tärkeimmät napit.
Ruskea sävy tässä koeautossa toi hieman safarimaisen tunnelman. En itse ehkä valitsisi tällaista väriä mutta se onkin täysin makuasia.
Ratti oli muotoiltu hyvin antamaan hyvän otteen. Pintakaan ei ollut liukas.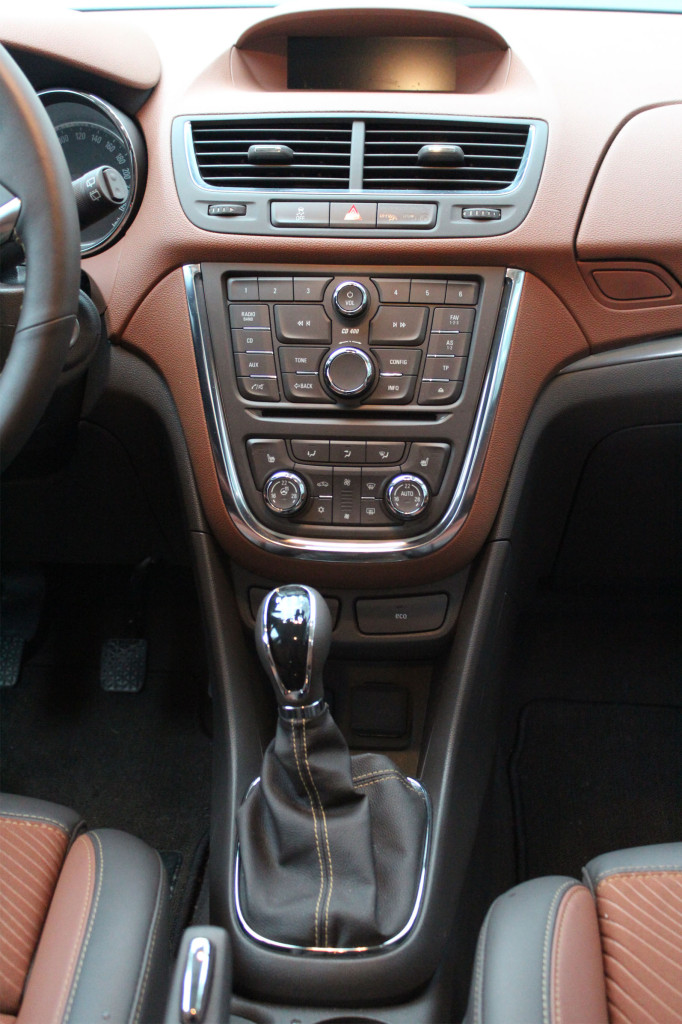 Keskikonsoli ja 6-vaihteinen manuaali. Alhaalla näkyy hieman käsijarrun kahvaa. Vapautinnappi oli iso nappi vivun päällä, mikä vaati ensin hieman tottumista ja erilaista otetta.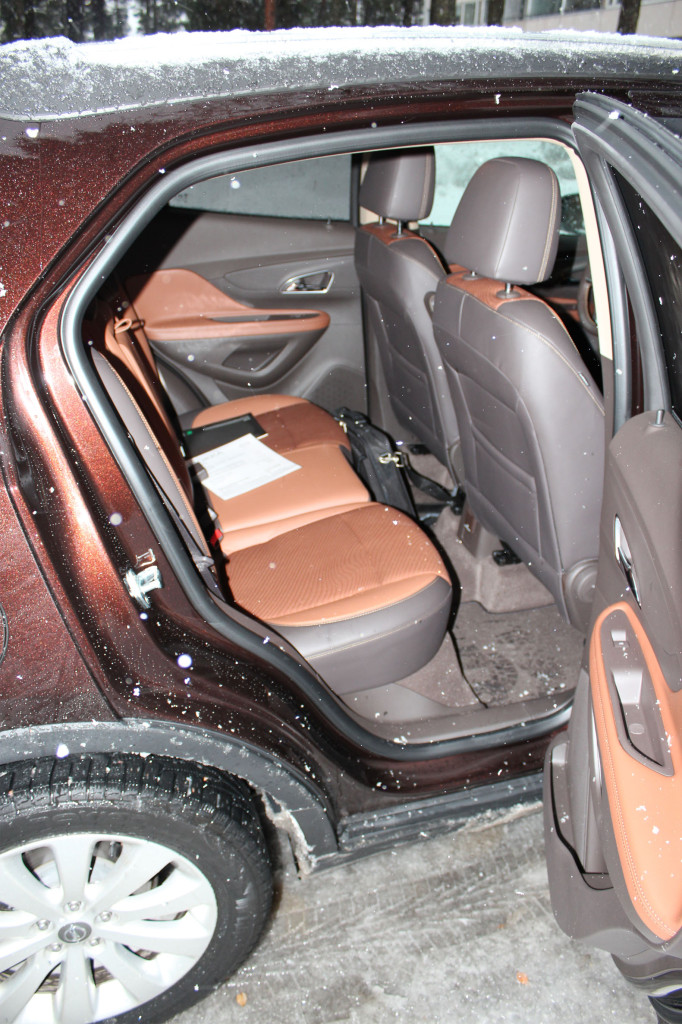 Pituussuunnassa ei takana ole paljoa tilaa. Se on kuitenkin korvattu korkeudella ja näin ollen jalat eivät ota kiinni.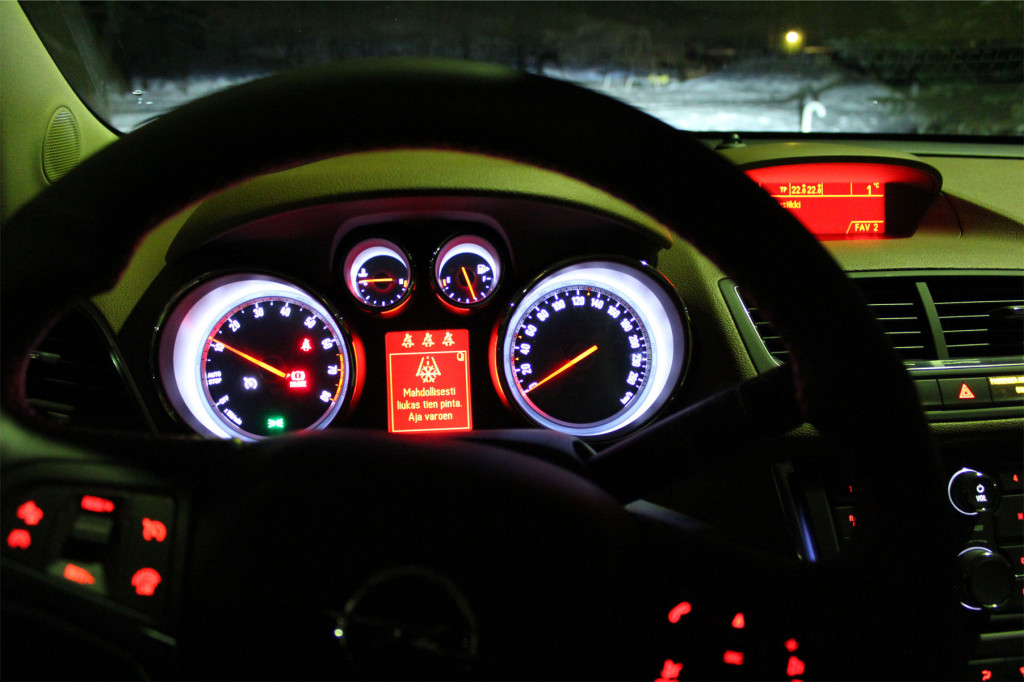 Yöinen tunnelmavalaistus. Värisävyt olivat rauhalliset. Kierroslukumittarissa oli jännä valoefekti…viisarin molemmin puolin havainnollistettiin oikeaa kohtaa myös led-valoin.
Mietteitä ja tuntemuksia:
Tässä mallissa oli Business packissä mukana tulevat sporttiset istuimet. Minun selälleni ne eivät oikein sopineet, kentien ristiselän tuen takia. Tukivat kuitenkin hyvin eikä puuduttaneet pitkässäkään ajossa.
Vaihteisto oli täsmällinen ja tarkka kuten saksalaisissa hyvin usein.
Neliveto oli todella hyvä lisä tähän autoon. Testin aikana kun saatiin vielä kunnon lumimyräkkä, ei tämä auto ollut 20cm loskakerroksesta moksiskaan. Ajovakautusjärjestelmä piti huolen siitä, että auto kulki juuri sinne minne pitääkin. Jos halusi hieman leikitellä, antoi sen poiskytkeminen siihen jonkinlaisen mahdollisuuden. Kontrollia se ei kuitenkaan antanut ihan kokonaan pois.
Kiva lisä oli liikennemerkkien tunnistamisjärjestelmä, joka on lisävaruste. Joka kerta kun ajoin jonkin nopeusrajoitusmerkin ohitse, näytti auto rajoituksen myös mittaritaulun näytöllä.
Auto on tavallaan aika pieni mutta saatu tuntumaan hieman tilavammalta juuri kasvaneen korkeuden takia. Takapenkillä oli myös hyvä istua (vaikka keskipaikalla ei välttämättä ole aikuiselle riittävästi tilaa) ja turvavyöt sopivat myös lapsille.
1.4L Turbomoottori kuljetti autoa ripeästi. Keli oli liukas, joten hyvä kiihtyvyys johtui osittain myös nelivedosta. 140 hevosvoimaa tuntuivat silti kiihdytettäessä. Opel Mokkan saa myös 1.6L ahtamattomalla moottorilla mutta itse panostaisin kyllä turbomoottoriin.
Autossa oli kitkarenkaat, joten rengasääniä ei juuri kuulunut. Äänieristys on kuitenkin tehty niin hyväksi, etteivät myöskään tuuli eikä moottoriäänet kuulu sisälle.
Ratti oli lämpeävä. Jos ei hanskoja satu olemaan mukana, on aamulla mukavampi lähteä kun ei tarvitse pitää kylmästä ratista kiinni.
Sisään- ja uloskäynti oli helppoa korkeuden takia. Sporttipenkitkään eivät haittaa siirtymistä.
Koeajomallissa oli myöskin panoraama-katto, mikä aukesi sitten lisäksi myös kokonaan kattoluukuksi.
Mikäli tämän kokoinen auto sopii sinulle, on Mokka varmasti hyvä vaihtoehto. Lähtöhinta Opel Mokkassa on alle 22 300€. Koeajamassamme mallissa lähtöhinta on vajaa 29 000€ mutta lisävarusteineen (business + luxus pack) hinta oli hieman yli 33 000€.
Teimme autosta myöskin videon. Tällä kertaa kokeilimme selostusta jälkiäänityksellä edellisten taustamusiikillisten videoiden sijaan. Antaakas tulla mielipiteitänne, kumpi on parempi.
Tällä hetkellä olemme julkaisseet englannin kielisellä selostuksella olevan version. Yritämme tehdä myös suomenkielisen mahdollisimman pian.
English
Hi.
Opel has just released a competitor for the crossover class and it's called Mokka. LänsiAuto Turku offered us a chance to test this new Opel Mokka. The car we got had a 1.4 liter turbocharged engine, four-wheel drive and a Cosmo pack. It had also Business- (bi-xenon, sport seats etc.) and Luxury pack (panorama roof, lane control and traffic sign reading) installed.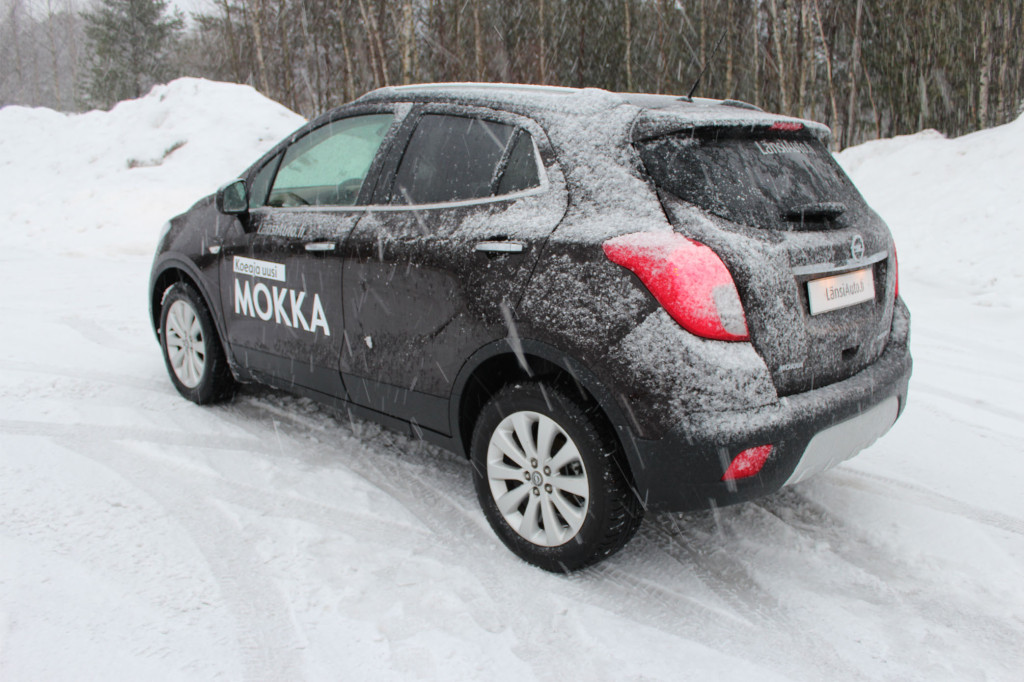 Open Mokka is somewhere between a regular car and a suburban vehicle and people call them crossovers. Mokka is competing with Skoda Yeti and Nissan Qashqai.  Mokka has the cheapest starting prize from these three.
Opel Mokka has quite rounded forms and the front end is high.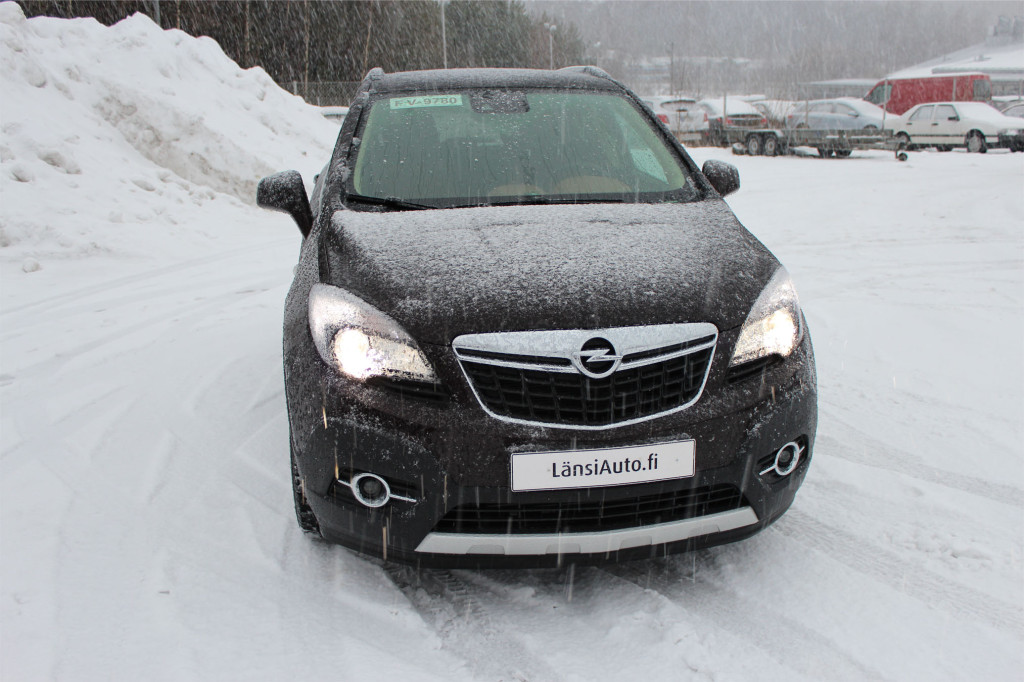 This car we got to test had bi-xenon lights. They gave quite a lot of light and they also had turning lights to illuminate the inner-curve.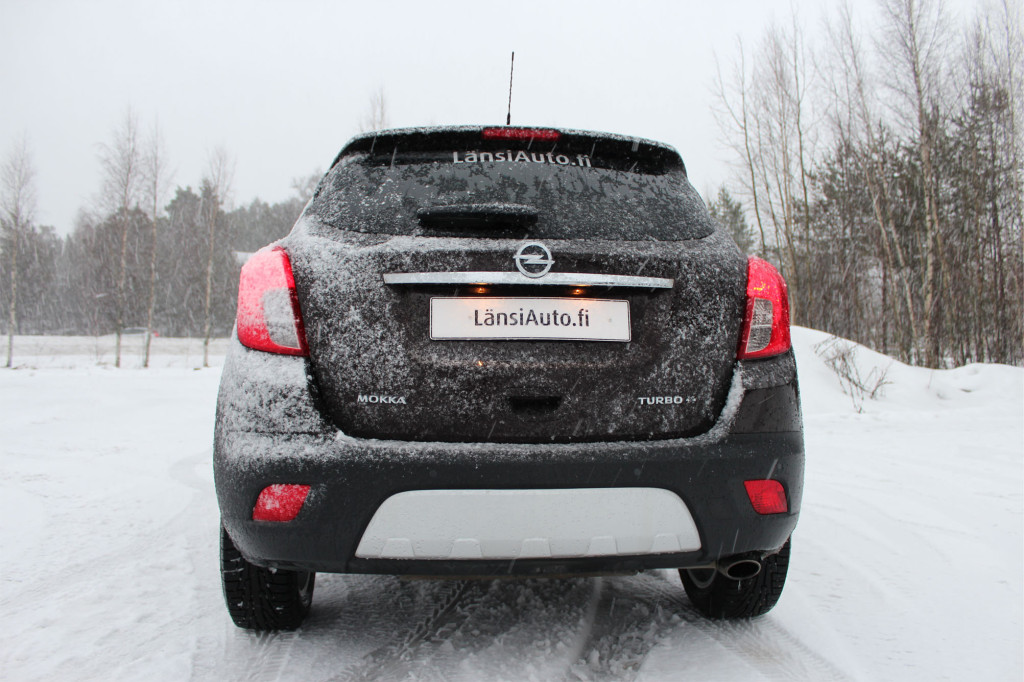 There was nothing particularly special on the rear-end. Your gaze will focus on two signs at the back.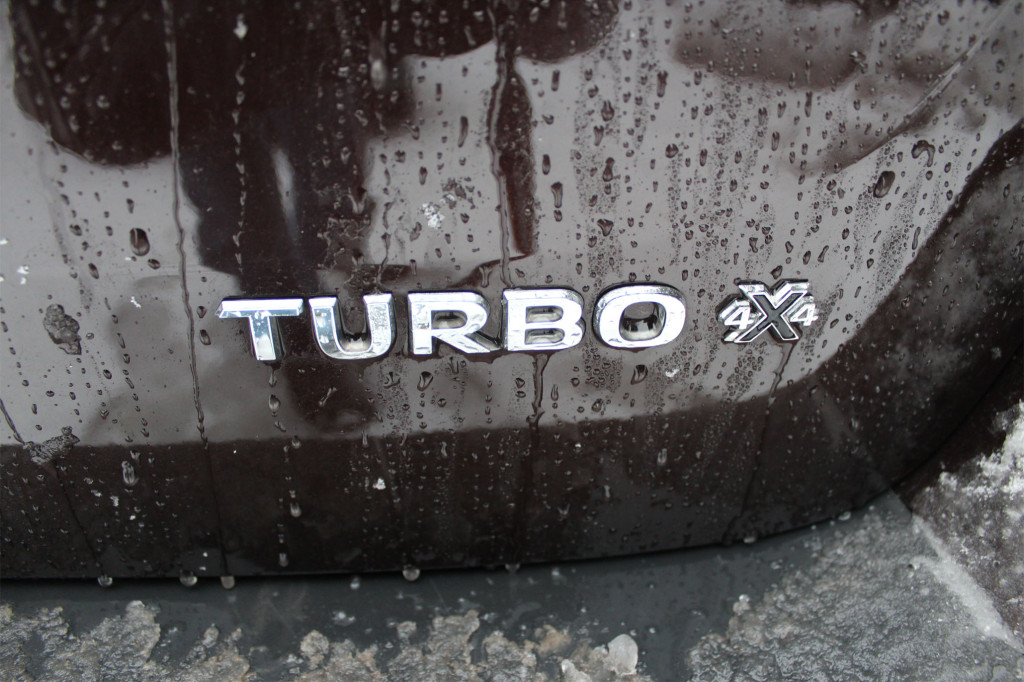 Turbo and 4×4  tell about performance and that you've got the right car for this weather.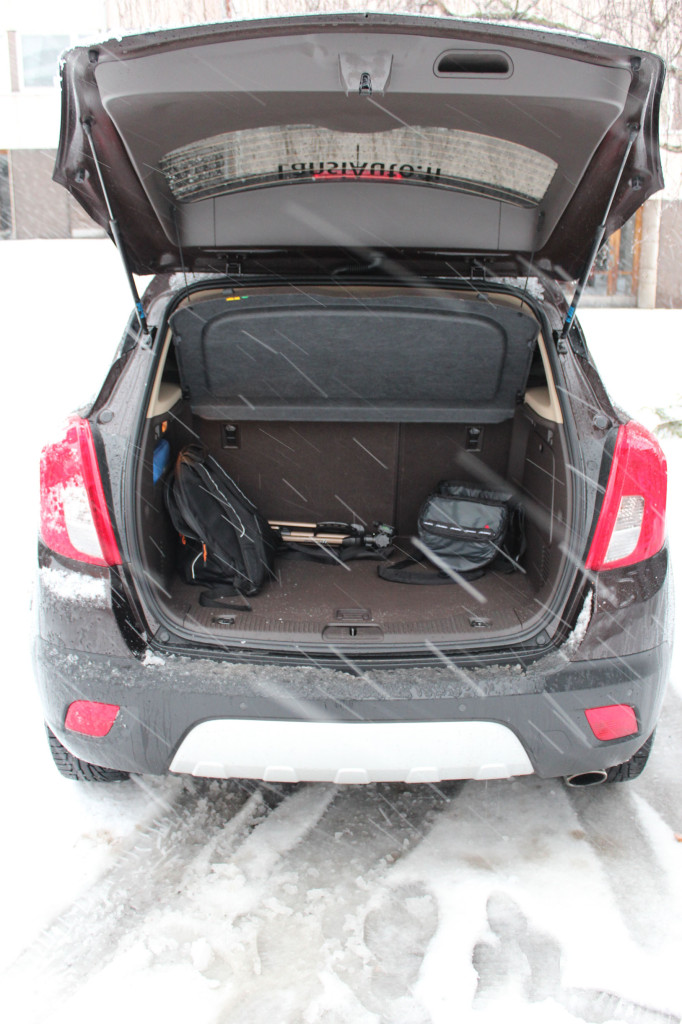 The tailgate opens high and there is no risk of hitting your head.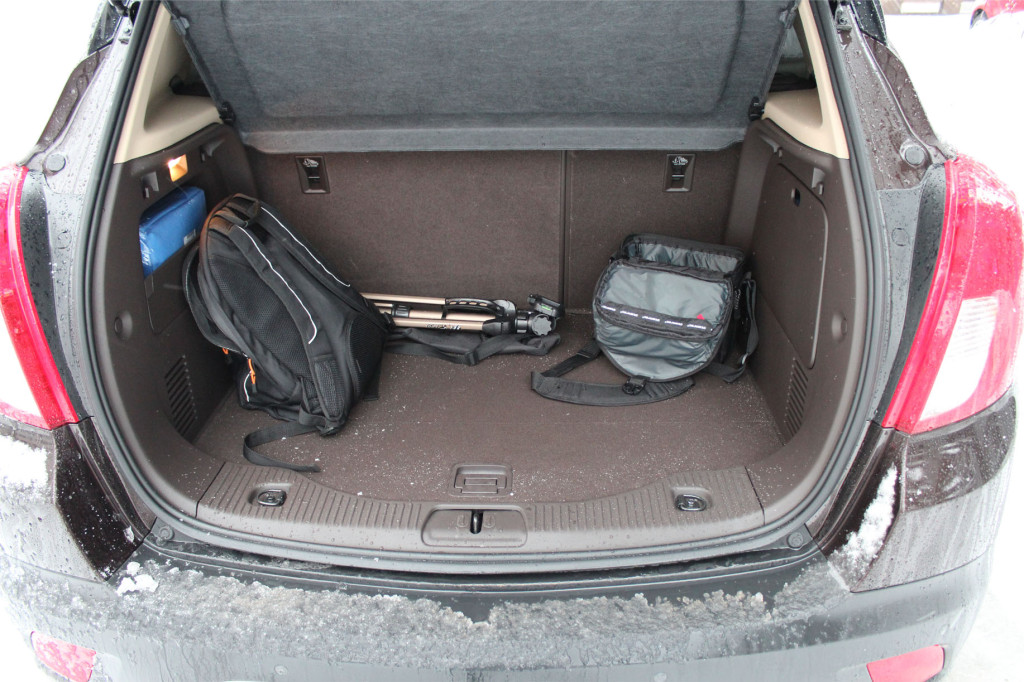 If you only carry a backpack, camerapack, shopping bags etc, you have enough room in the trunk. I'm sure you can also fit a few travelling bags there but if you have a family with children, it's too small.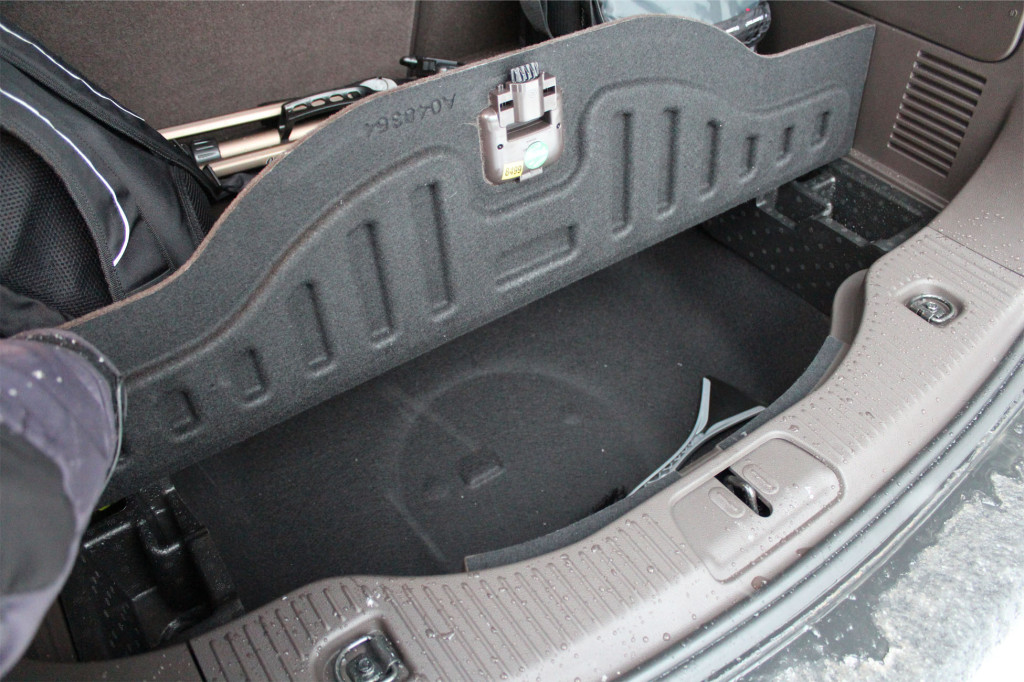 You can get a little extra space by lifting the middle floor. The height of the trunk increases and you'll get more space.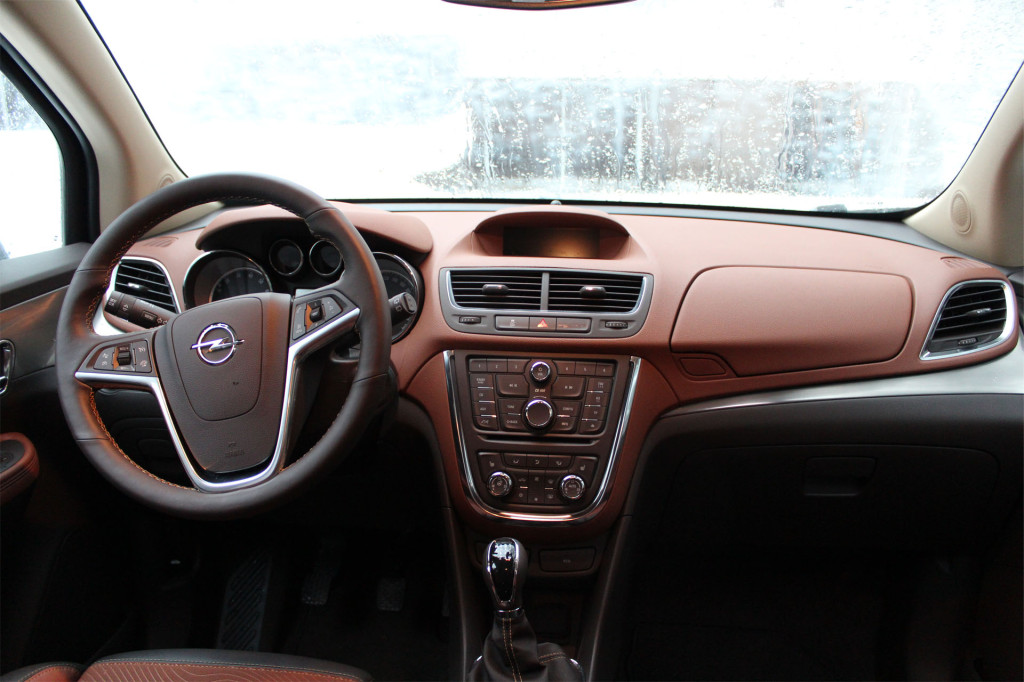 Opel Mokka is a bit like Astra from the inside. Not very complicated that is. I thought it looked quite pleasant with it's peaceful feeling and Opel haven't tried to fit too many buttons and switches there or even too big screens. The gearshift knob was formed to give a good feeling and grip. Only the most important buttons were inserted on the steering wheel.
As this test car had brown colored interior, it kind of reminded me of a safari. I think this wouldn't really be my choice of a color but that's a matter of taste.
Steering wheel was former to give a good grip. The cover wasn't slippery either.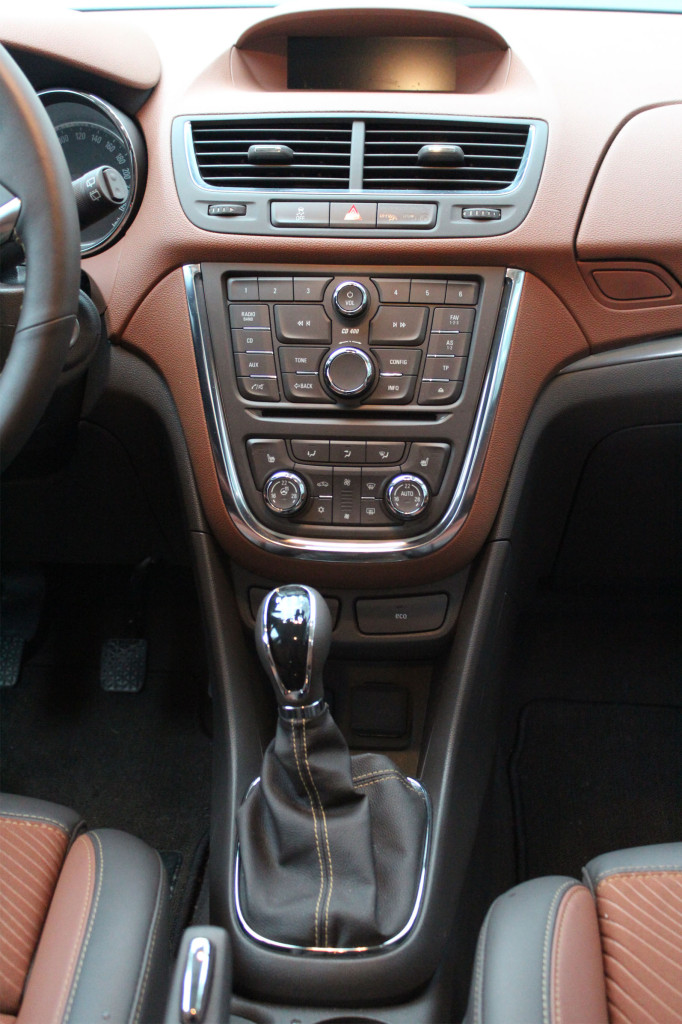 Middle console and 6-speed manual gearbox. You can see a bit of the handbrake lever on the bottom of the picture above. The realease button was on top of the lever which required getting used to and a different kind of hold.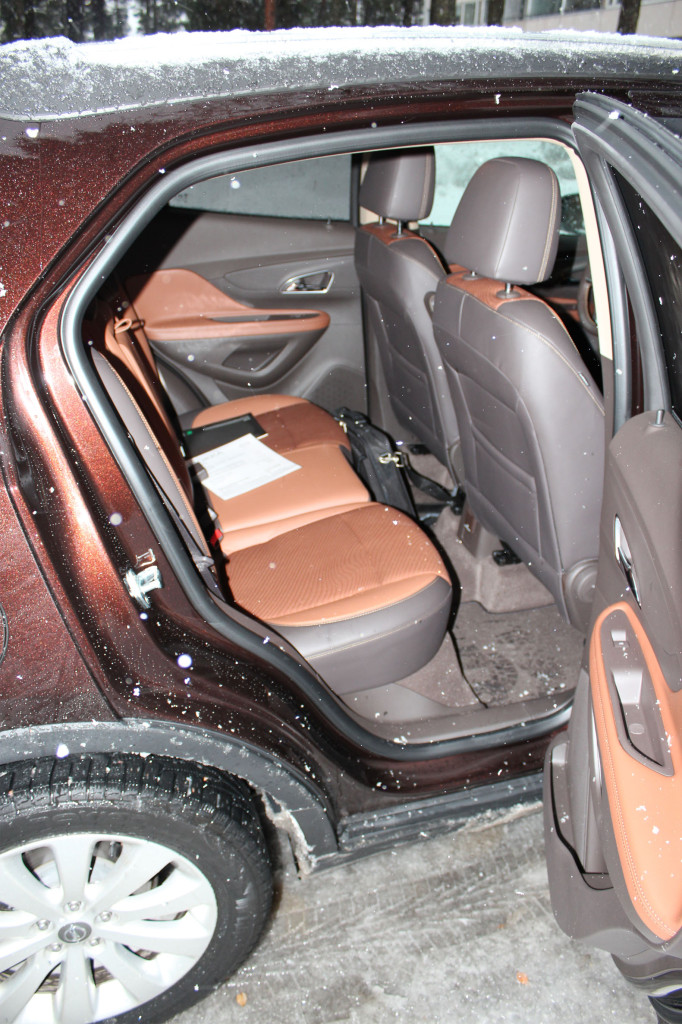 There wasn't much space on the back lengthwise but the height helped so that knees didn't get squashed to the front seats.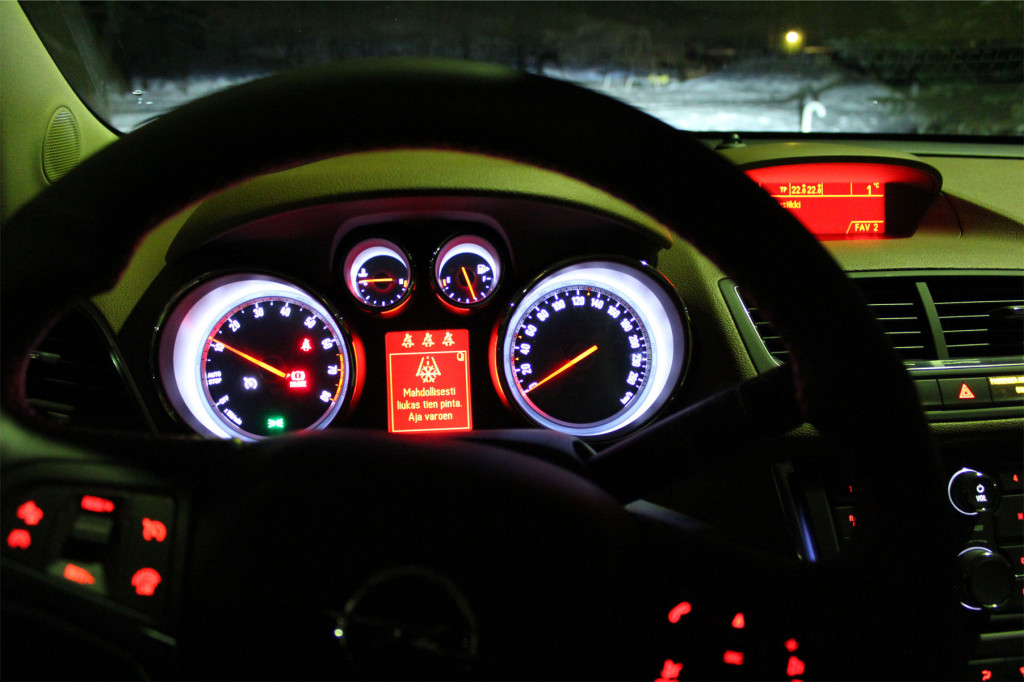 Nightly mood lighting. Colors were calm and there was a nice effect on revs meter. It showed the current rpm with a light too.
Our feelings and thoughts:
This model had sporty seats that come with the Business pack. They were not any good to my back due to the strong support they gave to the lower back. It took a while until I found a good setting but then my back was already hurting. If you disregard that fact, the seats were good.
Gears were precise like Germans usually are.
Four-wheel drive suited this car perfectly. During the test there was a bit of a snowstorm and while there was about 20cm of wet snow at some places, this car didn't mind at all. The stability control was also very good and the car was easy to handle on a slippery road. If you wanted to have a bit of fun, switching the stability control off let you have a bit more freedom. Still, it doesn't give you total control.
One nice extra feature was the system that was reading the traffic signs and showed the speed limits on the dashboard.
Car is quite small but has a bit bigger feeling when you sit inside. That is because of the height. Back seats are also good to sit on (not necessary for an adult on middle seat) and the seat belts were such that it fitted well for a child.
1.4L turbo engine made the car go swiftly. It was a bit slippery, so the four-wheel drive was partly the reason for good acceleration but you could feel the 140 bhp giving you a ride. You can also get Opel Mokka with a 1.6L engine without turbo but I would rather have Mokka with a turbo.
Mokka was pretty silent  inside. Engine noise was barely audible and while it didn't have studded winter tires, that didn't bother either.
This had a heated steering wheel so in case you forget your gloves and have to go on  a cold morning, it's much more comfortable to steer.
Entering and coming out is easy because of the increased height. Even the sport seats do not hinder you while moving in or out.
This one had also a panorama roof which also opened as a sunroof.
If you are looking for a car this size, I'm sure Mokka could be one good option. These are prizes in Finland but the starting prize for Mokka is under 22000€. The 1.4L Turbo 4×4 model we drove had a starting prize of under 29000€ but with the extras (business and luxury packs) it costs a little over 33000€
We also made a video of this Opel Mokka. This time we made a narration instead of a background music we have used in our earlier videos. I'd appreciate any opinion you can give which is better (narration or music). Give your comments and influence on future videos.